Cowboys & Angels (Sons of Chance #13) by Vicki Lewis Thompson: A sexy angel really does exist in Cowboys & Angels (Sons of Chance #13) by Vicki Lewis Thompson. Horse trainer, musician and cowboy, Trey Wheeler, is lucky to be alive. About eight months ago, he was in a near fatal car accident during a really bad snowstorm, when a beautiful woman spots him and brings him safely to the nearest hospital. Unfortunately, she disappears before Trey can properly thank her. He remembers bits and pieces of her presence, but her distinctive voice is something he has been searching for since the incident.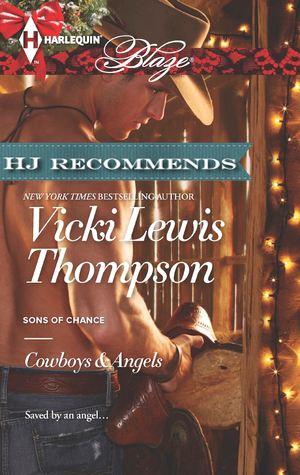 Ski instructor Elle Masterson is a military brat and to this day, never stays in one place long enough to establish any real friendships. Her life revolves around skiing which she teaches year round, by splitting her time between the Serenity Ski Resort in Jackson Hole Wyoming and Argentina. She is a strong, independent woman that desperately needs someone to love. The Chance clan overtakes her small, introverted world and helps her to realize the value of a loving family.
Trey works at the Chance Ranch and is at the Resort to attend his foreman's wedding, when he recognizes Elle's voice from so many months ago. There is an instant chemistry when their eyes meet for the first time. Trey has finally found his savoir and she is everything he thought she would be. They decide to spend some time with each other, which eventually evolves into love after only four days of being together. Talk about a whirlwind romance! During the wedding festivities, Trey performs his own composition about the angel who rescued him, which causes Elle's unbreakable heart to crumble.
I really liked this latest book from the Sons of Chance series. The story takes place during Christmas time, which only enhances the romance of snuggling together under a quilt, a holiday themed wedding, a roaring fire and riding through the snow on horseback. Although Trey and Elle's relationship moves along very quickly, it is authentic, believable and really sexy. Their romance actually began at the time of Trey's accident, when they both find each other extremely attractive and genuine. Ms. Thompson writes really hot sex scenes, which only adds to the emotions being unraveled by the characters.
The Chance family plays a supporting role in this book, but the meaning of family, love and sex appeal is prominently weaved within the story. This is a great series and this novel is one of the best yet!
Book Info:

 HJ Recommends
Expected publication: November 19th 2013 by Harlequin Blaze (Book 775) | Series: Sons of Chance #13
How do you hold on to heaven?
There's an angel watching over cowboy Trey Wheeler. After a nasty accident during a snowstorm last spring, a mystery woman saved Trey's life…and disappeared. Since then, he's been looking for his sexy savior. Now the Last Chance Ranch crowd has taken over the Serenity Ski Resort for a Christmas wedding and Trey realizes there's something familiar about the exquisite ski instructor….
Elle Masterson has no halo—just the love of her footloose-and-fancy-free lifestyle. And when she finds out the sinfully hot cowboy she rescued is staying at the resort, she's happy to indulge in a little holiday hanky-panky. Just as long as she can still take off for Argentina in the New Year.
But after three days of heaven between the sheets, will this down-to-earth cowboy be able to let his guardian angel go?