In Gold Coast Angels: Bundle Of Trouble by Fiona Lowe, Plastic surgeon Luke Stanley left Gold Coast City hospital as a proud and happy family man but came back a widowed single father after his wife died in a tragic incident. The once happy and jovial person has turned into a darkly brooding soul who is still grieving for his loss. Only Nurse Chloe Kefes is brave enough to get close to him and heal him.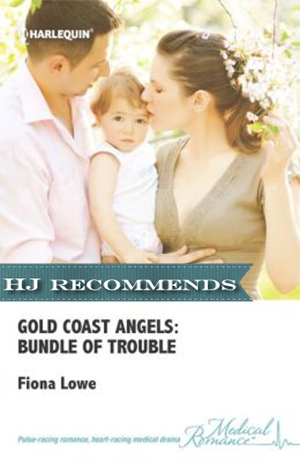 Chloe has gone a lot in her life herself and can understand the loss Luke has suffered. Before she knows, she is falling for him and his daughter Amber but will Luke allow the sunshine she can bring in their lives..??
'Don't be late on Thursday.' Just as abruptly, he strode out of the ward.
At that moment Chloe would have given anything to avoid Thursday. As
she absently listened to Kate and Keri express their stunned sorrow for Luke,
the ramifications of the next few days—weeks even—hit her
The man with the reputation of being fun, forgiving and easy to work with had totally
vanished. In his place was a tortured and grieving soul with a personality as
black as his jet hair.
It was a hell of a way to start her thirty-first year.
Bundle Of Trouble by Fiona Lowe is a great addition to the Gold Coast series and has the perfect balance of just about everything. The characters from previous and the next book also make an appearance in this one. Luke was the perfect brooding hero who had lost his wife in a tragic incident .The efforts he made for his daughter, Amber as a single father just won me over. Chloe was also perfect and well suited for Luke because she was just so lovable and I loved how she filled happiness in the lives of Luke and Amber. The medical aspects are in a perfect balance with the romance and nothing is an overdo. Its just perfect…!!
'You smell like a tropical fruit basket.'
She laughed. 'Is that a good thing?'
He rose up on his arms and stared down at her, desire hot and glittering in
his eyes. 'Absolutely.'
'You smell like salt and sunshine,' she said, unbuttoning his shirt.
'Is that a bad thing?'
She pushed his shirt off his shoulders and marvelled at the view. 'I'm not complaining.'
Overall,Gold Coast Angels: Bundle Of Trouble by Fiona Lowe is everything a medical romance should be about and I would recommend it to everyone who loves medical romance.
Book Info:

HJ Recommends 
Published November 2013 by Harlequin | Series: Gold Coast Angels #3
Falling for the brooding doc…
Top-notch plastic surgeon Luke Stanley left Gold Coast City Hospital a proud family man—and returned from his vacation a widowed single father. Now Nurse Chloe Kefes is the only one brave enough to get close to darkly brooding Luke.
Chloe has been through much in life herself, and knows falling for Luke and little Amber is asking for a bundle of trouble. But if she can help bring that laughing, easygoing man back, perhaps Chloe can bring the sparkle into all their lives again.