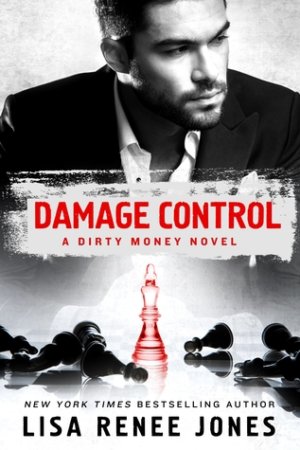 Damage Control by Lisa Renee Jones is book two in the Dirty Money Series, and needs to be read after Hard Rules. This is not a standalone. I repeat, this is not a standalone! Now that I got that out of the way, prepare yourself for even more twists and turns than the last book.
Shane Brandon's life is complicated. He needs to stay on top of his family and whatever illegal activities they continue to pursue, and now he must figure out what is going on with Emily Stevens. When Shane gets the investigation report on Emily, he starts to question everything about her.
"I am not going to sit through dinner with you looking at me like that."
"How am I looking at you?"
"Like I'm one of the many people who you can't trust and who have betrayed you."
Emily thinks she has to leave. Shane is aware of her secrets and now she's on the run. Only, how do you run from someone who won't let you?
The passion between Emily and Shane is still constant and undeniable. Their attraction in the first book was fast and furious, and it's only getting deeper in Damage Control. She's the one thing in his life that restores his faith in life, but what happens when he crosses a line? Will he lose her or maybe, lose himself?
Lisa Renee Jones is a rockstar at keeping readers flipping the pages. There is so much going on in this story and in a short amount of time. Despite this being book two in the series, you would think by now that I would have a clue to what's about to go down and who the bad guys are, but I don't. There are still many unknowns in this story and people who you thought might be exiting the story, have been given a reprieve.
If you've read the first book, then you definitely need to pick this one up. The world as Shane and Emily know it, is becoming more dangerous and when this is all over, who will be left still standing?

Book Info:

Publication: February 21st 2017 | St. Martin's Griffin | Dirty Money #2
Wall Street meets the Sons of Anarchy in Damage Control, the smoldering, scorching next novel in the explosively sexy Dirty Money series from New York Times bestselling author Lisa Renee Jones.
The only thing more dangerous than a dark secret is a damaged heart…
Shane Brandon has been pushed to the brink, torn between his corrupt family and his explosive, all-consuming desire for Emily Stevens, who he now knows is not who, and what, she seems. Has he trusted the wrong person? Will she, not his brother Derek, be the ultimate destruction of his family Empire.
Emily tries to run from Shane, but he will stop her, confront her, force her to reveal all – one hot touch and kiss, at a time, under every intimate detail of who this woman is, and what she wants, is exposed. But as he tears away the dangers of the unknowns with the woman in his bed, and in his heart, The Martina Cartel, has set their sites on his company, his family, and the one piece of leverage they believe he won't gamble with: Emily.