Defying Her Billionaire Protector by Angela Bissell: The second book in the Irresistible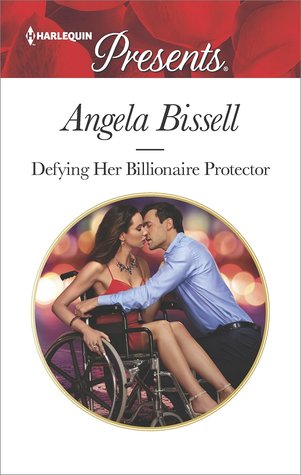 Mediterranean Tycoons takes us to a beautiful island and is the story of Marietta and Nico. Marietta is the sister of Leo Vincento, the hero of book 1 in the series, Surrendering to the Vengeful Italian. Due to youthful arrogance and foolishness, she made a serious error in judgment as a teenager when she got into the car with a drunk driver. The resulting accident killed her friends and left her paralyzed in her lower limbs. Wheelchair bound, surgery after surgery did nothing to repair the damage and she's permanently disabled. But not in spirit. Determined to make the most of her situation, Marietta doesn't let her injuries define her and works and lives independently, tackling items on her bucket list one at a time to prove to herself and the world just what she can do.
But someone is stepping over the line. A stalker has appeared in her life, sending her flowers, notes, and becoming more and more intrusive. Leo, already dealing with guilt about the accident that caused her injuries, is not going to let her be hurt again. As such, he's asked his best friend, security expert Nico to take steps to ensure Marietta's safety. Nico's solution – bring Marietta to his home on a secluded island while he and his team investigate who the stalker could be. She's his best friend's little sister , but she's also a very beautiful and desirable young woman. Nico sees past the wheelchair to the feisty and independent woman within. He can protect her from harm – but can he protect his heart?
I enjoyed this book as much as the first in the series! The author has a lovely writing style, fluid and engaging and the plot flows smoothly. It's got a bit of suspense with the stalker subplot, some action and some sexy scenes between the hero and heroine as they spend time together in seclusion and discover a chemistry impossible to ignore. I loved that Marietta's disability was dealt with matter of factly and that there wasn't a storyline where she'd miraculously regain the use of her legs. How she deals with the daily necessities of her life – her apartment, driving her car, her work and so on is well described and shows a woman who accepts her lot in life and won't let it stop her from achieving what she wants.
Though Marietta has some limitations in terms of what she can do as far as lovemaking is concerned, she and Nico find a definite compatibility in the bedroom. He doesn't treat her like a china doll, nor does she want to be treated that way. The problem is what to do when their time is paradise is up and the stalker has been caught. Nico and Marietta have both tried to guard their hearts and are happy enjoying a no strings attached affair but as they share things with each other, it becomes obvious that events in Nico's past are holding him back from fully committing to a future with Marietta. Eventually though he has to choose between living in the past or moving forward. Fortunately he makes the right choice and we get a lovely happy ending. This is a debut series for Ms. Bissell and I'm very impressed with the quality of writing. I look forward to more books from her in the future!

Book Info:

Publication: Dec 20, 2016 | Harlequin Presents | Irresistible Mediterranean Tycoons #2
"You need me to keep you safe…"
Marietta Vincenti is furious when her brother's best friend—private security tycoon Nicolas César—takes her to his Mediterranean island to protect her from a stalker. Because Marietta isn't weak. She survived the accident that cruelly stole the use of her legs and she'll survive now.
Nico is battle-hardened and scarred, and Marietta crashes against the impenetrable shields that surround this powerful magnate, sensing a kindred spirit beneath. But Nico unearths a passion in her that threatens to expose hopes and dreams she'd buried long before…
Can she take a leap of faith with this man who could undo her completely?