In Eight Simple Rules for Dating a Dragon (The Embraced #3)  by Kerrelyn Sparks, A day of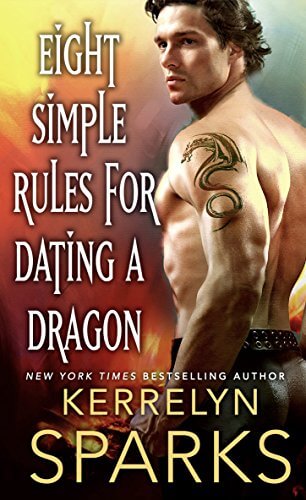 celebration turns into one of fear–as well as of wonder–when elf Gwennore finds herself being dragged away from her family by a dragon. Being held captive in a strange land until a misunderstanding is cleared up unnerves her. But she can't deny that getting to know General Silas Dravenko, the seductive jokester, has changed her life. There is something about his homeland that calls to Gwennore and has her feeling at peace for the first time ever. Although the majority of his clan doesn't share his good will towards her. Agreeing to help Silas figure out what is bringing the clan's royalty to madness and what illness plagues the rest of his people, Gwennore sets out to use her healing abilities to help them. Such closeness to his family and friends also puts her in danger, as she finds out their secrets–and as she falls more and more in love each day with her Gorgeous General.
"Gwen, now you know how I feel."
Tears came to her eyes. He loved her. He loved her something fierce. Her heart filled with so much love and longing for him, she thought it might burst. "Silas."
"Snookums."
She snorted. The rascal.
Silas has many secrets he must keep to ensure the safety of his beloved family and countrymen. So when Gwennore, an exquisitely brave elf, is brought into the midst of his clan, he knows to be on guard. He's pleasantly surprised when she proves to be a huge help. As a healer, she is a possible ally to help Silas finally figure out what is truly behind the five hundred year old curse on his clan. He coerces Gwennore's help while trying to reveal as little about his people's secretive past as possible. But as Silas makes the realization that he's not willing to let the beautiful healer leave his home without a fight, he also must do everything in his power to keep her safe as unknown forces threaten their lives and the lives of his brethren.
'A calmness spread through him, a peaceful feeling that he'd found his home, his strength, his refuge from any storm. Gwennore. Who could heal his heart and soothe his soul like her?'
Hilarious bantering, fantastical creatures, and a thread of intrigue was just a small part of what made this fantasy/romance an absolute winner.
"Rule number five: Beware of kissing a dragon. He won't burn you, but he might make you melt."
Okay, so I've read book one in The Embraced series but I haven't quite had a chance to read book two yet. Now I'm kicking myself over it because *wow* did I have a terrific time with this third installment! I swear I haven't smiled and chuckled so much through an entire story in I don't know how long. I adored the many different characters. They all seemed so real, even if this was a fantasy world complete with an Elf community and several types of shifters, including dragons. (I'm a sucker for dragons!) It was the different relationships all working together–or hindering each other–that really snagged my attention here. Especially the romance that slowly built between Gwennore and Silas, and the heartwarming friendship they formed together and with others.
I really don't think you could have asked for a better hero and heroine for this particular story. Silas was courageous, honorable, and had a wonderful sense of humor. He was harboring some secrets that no one outside of his clan could know without putting his people at risk. I loved that Silas wanted to keep everyone safe, including trying to convince the clan's king to stop the war against the Elves. He especially kept an eye on Gwennore. Her safety was his utmost concern and I had to laugh at the way she kept him on his toes while he tried to keep watch over her.
Gwennore was a lovely mix of strength and vulnerability. The poor young woman had spent her time with her beloved adopted sisters in their new homes, dodging gossip and sneers, having to prove herself because she was an Elf. I thought Gwennore was actually quite brave in her own gentle way. She fought for everyone in Silas's clan, even though they didn't trust her in the least and she was able to make several very dear friends along the way. I had such fun watching her open up to her feelings for Silas. It took a while, but once Gwennore knew she was falling in love, she was passionate and so caring when it came to her Gorgeous General. (lol)
Eight Simple Rules for Dating a Dragon was a rollicking good time. Leave it to Kerrelyn Sparks to create the perfect balance between wisecracking characters, genuine romance, and a complex mystery to solve.
Book Info:

Publication: Published March 27th 2018 | St. Martin's Paperbacks | The Embraced #3
TRUTH—OR DARE?
Gwennore is an Elf able to track down the cause of a certain illness and heal it—a valuable asset to her people. But when she is thrust into the realm of the dragons, she discovers a haunted place of power, passion, and magic—one that is plagued by an ancient curse. When she meets the smoldering General Silas Dravenko, Gwen knows she's entered a whole new world of trouble. She's been raised never to trust a dragon. So why does making a deal with the devil feel so good?
Silas has no way of saving the royal family he's served for years. But when a beautiful, innocent elf comes bursting into his world, Silas is awakened to desire in a way he's never felt before. But how can he trust a sworn enemy. . .and how can he live without her, in Eight Simple Rules for Dating a Dragon by New York Times bestselling author Kerrelyn Sparks.