Lone Star Lovers by Jessica Lemmon is a sexy romance that starts with a one night stand, continues with a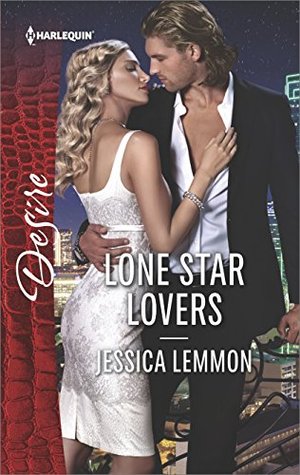 fake engagement, gets complicated by a baby on the way and ends with a happy ever after. It's the first in a new series, the Dallas Billionaire's Club, featuring the Ferguson family of Texas and is also the author's debut romance with Harlequin!
Penelope Brand recently left Chicago after an involvement with a client ended in a PR nightmare for her. She's making a new start with her public relations firm in Dallas. Having Stephanie Ferguson, the mayor's sister, as a client gives her an 'in' with the kind of crowd that can make or break her career and when she's invited to the mayor's birthday party, she's a happy attendee. What she doesn't expect is to see her one night stand from a month ago at the same party – or that he'd end up being the mayor's brother!
Zach Ferguson hasn't forgotten the beautiful woman who has inspired a month's worth of fantasies and seeing her at his brother's party makes him consider asking for a second round. When his ex-wife shows up to make trouble, Zach's quick thinking has him introducing Penelope as his fiancee, a role she's willing to play for a short time, especially if it means more sexy times with Zach. Things get a little too real though when it turns out she's pregnant from their first night together. Though neither was looking for commitment, will their fake engagement end up being the real thing?
I really enjoyed this introduction to the Ferguson family! Penelope has learned that getting involved with a client is bad news, and though she's 'hired' by Zach in a manner of speaking to help with his PR problem due to a hasty marriage and divorce in Vegas, she can't help that she's attracted to him. They share some sexy scenes together as they navigate their relationship that starts to feel very real, especially with a baby on the way.
Zach becomes a hero in pursuit, working to convince Pen that they should give consider a real marriage for the sake of their baby. He cares about her, but is still wary of being too emotionally involved having loved and lost once before. Pen is smart enough to hold out for the real thing and they have their ups and downs while Zach figures out what his true feelings are before they get their happy ending. This is a low angst, fun and flirty romance and a great start to this new series!
Book Info:

Publication: Mar 01, 2018 | Harlequin Desire | Dallas Billionaire's Club #1
This sexy Texan was only a one-night stand.Until he became her client–then her fake fiance! Penelope Brand's hookup with billionaire Zach Ferguson was casual. Until he announces her as his fake fiancee to avoid scandal–and she discovers she's pregnant. Now Zach demands they say, "I do," for their child. But Pen won't settle for a sham marriage. If Zach wants to keep his Lone Star lover, it's his whole heart or nothing…