In Encounter with a Commanding Officer (Mediterranean Army Docs #1) by Charlotte Hawkes, Major Felicity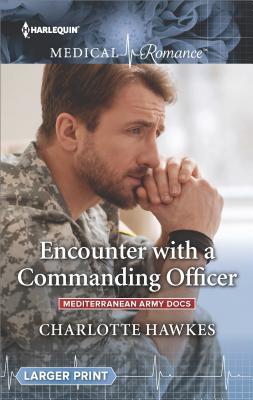 Delaunay's life is ruled by her determination to be the best Army doctor she can be, so she doesn't have time for distractions such as Colonel Ash Stirling. However, the more time she spends with him, the more she finds herself falling hard. Can Ash convince Fliss that they deserve a shot at happy ever after?
"Say again? For a minute there I thought you said Colonel Man Candy."
"Yeah, I did." Her friend grinned wickedly. "But it gets better. Apparently up until a few months ago he was Major Man Candy."
Fliss snorted. "Major Man Candy? Seriously, Elle?"
"Seriously."
"People actually called him that?"
The moment I started reading this book I found myself laughing and absolutely captivated by the heroine's friend, Elle, due to her inexorable determination to help the heroine move on from her last relationship and get her to cut loose and hopefully have some fun. Will Felicity listen to Elle? Will she give Ash a chance, if she happens to like him? However, it was from the moment that the hero and heroine were introduced to each other where this story became a real page turner for me, as Felicity isn't about to be chastised for doing her job to the best of her abilities.
As for the dialogue, it entertained me from start to finish due to the main characters back stories and this couple's growing relationship. The only person that's ever shown the heroine any sort of love is her uncle and I could understand why she followed in his footsteps in choosing the career she has. I also liked how strong and brave the heroine is and how determined she was to go after what she wants and what she wants is Ash. Because she's normally Ms. Prim and Proper and Ash challenges her to be different; challenges her to step out of her comfort zone. Yet, what I liked most about the heroine is the decision she makes towards the end. Certainly, having Ash in her life is worth any sacrifice, even when it comes to family.
"I can't give you more than sex."
"Who says I want more than that?"
"You did. When you told me you didn't do this, remember? But I don't go for meaningful relationships, I don't do intimacy. I just do sex."-
Fliss closed the gap between them, so close they could have touched if either of them has raised their arms. "I know," she murmured. "Because sex is what you use a defence against intimacy."
While the hero, he's been through so much and I felt sorry for him when it came to how adamant he was in not wanting happy ever after just because of his dad and his childhood. I also liked how well he's done for himself and how he finally found peace from his past. Because mending things with the man that was always there for him when his father let him down was what he needed to make him finally realize that happy ever after is possible for him.
Overall, Ms. Hawkes has penned a wonderful read in this book where the chemistry was intense, the romance illustrated how special Ash believes Fliss is, and the ending had me clapping for the heroine's bravery and the hero's determination to have the one person that loves Felicity see that he's the best man for her. I would recommend Encounter with a Commanding Officer by Charlotte Hawkes, if you enjoy the medical romances, the enemy to lovers trope, or books by authors Sue Mackay, Lynne Marshall, Scarlet Wilson and Marion Lennox.

Book Info:

Publication: August 1st, 2017 | Harlequin Medical | Mediterranean Army Docs #1
Rules of engagement!
Army trauma doctor Major Felicity Delaunay likes the rules and regulations that give structure to her life. But the arrival of maverick hotshot Colonel Ash Stirling is about to turn her world upside down!
Ash hasn't overcome his troubled past to get where he is without taking risks, but he never crosses the line. Not with a colleague…no matter how gorgeous! Yet Felicity gets under his skin like no other, and he soon finds himself breaking all his—and her—rules.