In Falling Hard (Bad Boys Undercover #2) by HelenKay Dimon, former Marine West heads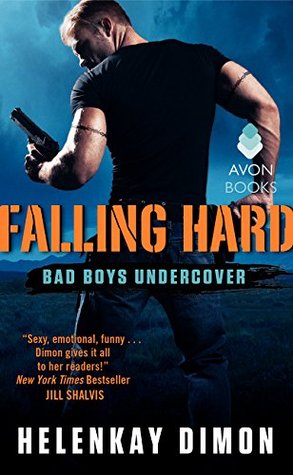 back to Pakistan on a mission for his Black Ops group "Alliance". It's not a place he wants to be, but his group is responding to a call for help from a Doctor working a clinic there.
Amidst gunfire and danger, they arrive in time to save the Doctor and find out what he knows. It's not the Doctor they find though, but his daughter Lexi, who works the clinic with him and who put out the call. With no answers but danger fast on their heels, West and Lexi separate from his team mate and find themselves not only on the run from the danger they are attracting, but from the immediate attraction they have for each other. With no one to trust but each other, things heat up quickly between Lexi and West as they race against time to find answers and safety. Answers aren't easy to find though, especially when Lexi is not telling everything she knows. Can West keep Lexi safe, at the same time shutting down a national security threat? Will the feelings Lexi brings out in West mean anything in the end?
Falling Hard is a well paced suspense that takes place over a very short period of time. There is a lot of action, danger, and unknown that kept me intrigued. Then general fast pace of the book makes the fast pace of Lexi and West's relationship believable.
Lexi was a frustrating, but admirable heroine. Admirable because she's done what she could to move on from her past in a way that worked for her. She's strong, independent and stubborn! Frustrating because at times I felt like she was so clueless about the danger she was in it was ridiculous. She called for help, but resisted it almost every step of the way. I'm not sure what she thought would happen once she placed that call… West has a past that has shaped who he is today and what he is. He's a machine, or at least he feels like one. Lexi makes him feel but he doesn't really know how to deal with that. It was interesting to watch these two characters come together so fast, in such intense circumstances, I was very curious what might happen afterwards. I liked how HelenKay did all of this.
There are a lot of secondary characters in Falling Hard who managed to throw me off, not knowing who, what or why. At times they were hard to keep track of but overall this kept the plot dangerously exciting!
Falling Hard in my opinion is a good mix of suspense, action and romance. Two people finding a path to the future, an army after them, and a dangerous quest make a great mix.
Falling Hard is part of a series, and I haven't read the first one, but I would recommend reading it first because I think I would have had a better grasp on the Alliance and some of the secondary characters if I had. I'd recommend Falling Hard to romantic suspense readers looking for fast paced, non stop action.
Book Info:

Published: May 26th 2015 | Avon Books | Bad Boys Undercover #2
After a grueling assignment with the black ops force known as the Alliance, Weston Brown is craving downtime. Instead, he's pulled into his deadliest operation, in the one place he never wanted to see again. No-nonsense and so damn hot, Lexi Turner lied to get him to her mountain clinic in Pakistan. But the threat is terrifyingly real.
Lexi has been asking too many questions, drawing the wrong kind of attention. As soon as she lays eyes on West, she can tell he's quiet—yet tough—and has a rescue complex which will come in handy for going up against the world's most ruthless gunrunners.
Cut off from the rest of the Alliance, Lexi and West navigate the brutal terrain and a primal sexual attraction. Sticking around has never been West's way, but now he'll use every resource to keep Lexi by his side, safe from a killer who leaves no loose ends behind.