In The Marriage Season (The Brides of Bliss County #3) by Linda Lael Miller, Becca "Bex"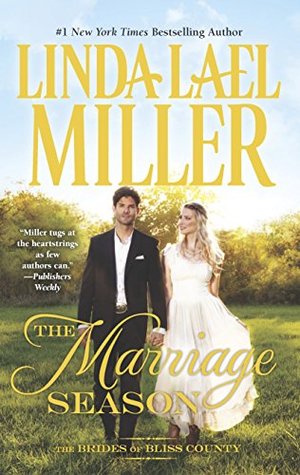 Stuart may have agreed to the marriage pact she and her best friends Melody and Hadleigh made to find The One, but she actually believes she's had her one shot at love already. Losing her fiance Will while he was in the military devastated Bex, so she's concentrated on her business instead of romance. But ever since gorgeous Tate Calder (and his two adorable sons) showed up in Mustang Creek, her heart has been fluttering. Bex isn't sure she's ready to try her hand at love again. Although, Tate may just make her change her mind.
'When they'd made the pact, she hadn't realized she'd be so afraid of falling in love again.'
Tate Calder moved his young sons Ben and Adam to Mustang Creek, Wyoming, after his wife passed away. Building a new house and a new business breeding horses should keep him busy enough. But the former pilot can't even think straight any time he's close to Bex. She's everything he'd ever want in a woman. Funny, athletic, kind. However, his previous marriage taught him to be cautious of who he gets involved with. Could this be Tate's chance to get it right the second time around?
"…As for me, I'm looking forward to a long, hot soak in a real bathtub. I might even go so far as to indulge in a glass of wine while I bathe. Oh, and some soft music would be lovely, too."

There was a brief, pulsing silence. Then, his voice husky, Tate asked, "Can I join you?"
The Marriage Season was a charming romance that centered around family, friends, and two people who were actively trying to heal from painful past relationships.
'The word love made her uncomfortable. He saw that. The word marriage made him want to run.'
I can always depend on Linda Lael Miller for a solid plot and engaging characters, all set in the ruggedly wild West, which was exactly what we had here. I've enjoyed meeting these characters in previous novels, but you don't need to have read them in order to enjoy and understand Bex and Tate's romance.
I think the premise behind the story, the marriage pact between Bex and her two best friends, is an intriguing set up for this series. Not only do we get the love stories, but there has also been a big focus on the friendships of Bex, Hadleigh, and Melody, as well as Tate, Spencer, and Tripp. This time around, with Tate's two young sons and Bex's nephew being a big part of the plot, all of these people interacting made it seem like a real community. I loved the bond they shared and how much they truly cared for each other.
I think what I loved most about Tate and Bex was their shared dry sense of humor. Their conversations were beyond funny and so sweet. They were such a cute couple. Neither wanted to get serious, but their hearts and their bodies had other plans. I liked that they balanced each other out so well and they were a fairly laid-back couple. There was no high intensity drama, but instead they had honest everyday issues that plague us normal folks. I think that helped me connect with them more, because they were realistic.
Book three in The Brides of Bliss County swept me away with the down-to-earth, lovely characters and their search to find happiness. This would make a fantastic beach or poolside read.
Book Info:

Published May 26th 2015 | by HQN Books | The Brides of Bliss County #3
Will the marriage pact be fulfilled? Return to Mustang Creek, Wyoming, with #1 New York Times bestselling author Linda Lael Miller for more Brides of Bliss County!
Since Hadleigh, Melody and Bex—the best of best friends—entered into a marriage pact, two of them have found (and married) the men of their hearts. But Bex doesn't think she'll be as fortunate as the others. Her own first love died years ago in a faraway war, and Bex has lost hope for a happy marriage of her own. She concentrates on her business, a successful chain of fitness clubs, instead.
Then, when single father Tate Calder comes to Mustang Creek with his two sons in tow, who befriend Bex's eight-year-old nephew, she and the handsome, aloof newcomer are constantly thrown together. But is the marriage season over? Or can a man with doubts about love be the right husband for a woman who wants it all?