From Enemies to Expecting is the fourth and final book in the Love and Lipstick series by Kat Cantrell. The series focuses on four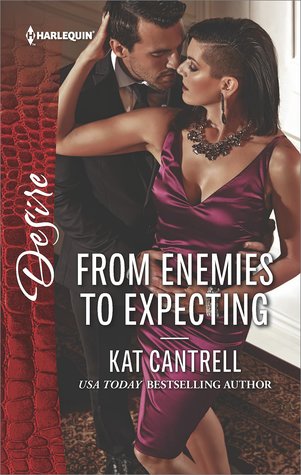 women who run a cosmetics company, Fyra, with each having a different role to play. Trinity Forrester has watched her three friends find love one after the other, and while she may have felt an occasional twinge of jealousy, she's happy and thrilled for them, even if it means some of their business must be done long distance now. Company sabotage has had a dramatic effect on their bottom line, a case still under investigation. As the marketing executive, Trinity is looking for any way to get their numbers up, and a stint on a reality show is a desperate move but could be just the ticket to get some fingers clicking on their social media accounts and increase their sales.
Logan McLaughlin is a retired baseball player and current owner of the Dallas Mustangs. With the team on a losing streak, ticket sales are down, and he's reluctantly agreed to participate in a reality show with hopes that the exposure will bring the team some good luck. When Trinity shows up a few minutes late, the producers of the show are quick to pair them together – the bad girl in the hot pink suit with matching hair and the All American boy will definitely attract an audience. With no choice but to play along, Logan finds he enjoys sparring verbally with Trinity. Taking the opportunity to play up an argument for the cameras, the heat between them sparks a whole new game. They quickly realize that keeping themselves in the public eye will be to the benefit of both their companies and devise ways to be seen together and linked romantically. But when Trinity ends up pregnant, will they admit that what they have together is more than just for show?
I'm going to come right out and say that I loved this story! In fact, it's going to be a serious contender for my best of 2017 list. The contrast between the personalities, the banter, the sexy times, the recognition of kindred spirits who'll do whatever it takes to make their businesses succeed – it all worked for me.
Trinity comes across as a driven, motivated and competent woman – even though she's currently going through a creativity block in the development of a marketing campaign for Fyra's new scar reducing cream. But being with Logan sparks the ideas she needs to make the product a success. Logan is equally motivated to get his team back on a winning streak. As a retired player, he knows what it feels like to be on and off the field. Finding that Trinity's presence is good luck for the team and coincidentally gets them winning again, it's easy for him to use that excuse to have her spend more time with him.
I particularly liked how Logan's preference for quiet, more conservative women gets thrown by the wayside when he meets Trinity. On the surface her eye catching clothing, her tongue piercing, her tattoos, her colored hair, and her outspokenness are the opposite of any woman he's dated. But she also has a softer side, one he discovers beneath all the physical trappings. In truth, he falls for the whole package. For her part Trinity loves seeing the somewhat staid and serious Logan show his own wicked side, and they share some steamy scenes together.
The pregnancy storyline comes in later in the story, after Logan and Trinity are already emotionally involved. Trinity experienced a miscarriage several years earlier, and this plays an important part in her reaction to her current pregnancy. Things get a bit rocky, with a lack of communication leading to the conflict that Trinity and Logan have to work through in order to get to their happy ending. The friendship Trinity has with her three girlfriends with whom she runs Fyra is also on display in some delightful scenes. The underlying story regarding the sabotage at the cosmetics company that has been a thread through the series gets solved, but in a fairly anticlimactic way, so I wouldn't put this one in any suspense category. From Enemies to Expecting is a fabulous contemporary romance with the perfect mix of banter, steamy romance, and sweet touches – It is definitely going on my reread shelf.
Book Info:

Publication: Feb 07, 2017 | Harlequin Desire | Love and Lipstick # 4
Winning is non-negotiable and so is parenthood!
Marketing exec Trinity Forrester needs PR buzz. By-the-books baseball tycoon Logan McLaughlin needs ticket sales. Their plan is simple: embark on a pretend romance to boost publicity. But soon their reality-show kisses lead to explosive off-camera lovemaking
Trinity knows her fling with her frustratingly handsome costar ends when the cameras stop rolling–not with a diamond ring and proposal. But when their fake romance yields a very real pregnancy, will the emotionally guarded duo choose winning… or wedding?