In Her Secret Ranger (The Men of At Ease Ranch #2) by Donna Michaels, Brick Mitchum has plans to leave At Ease Ranch, just as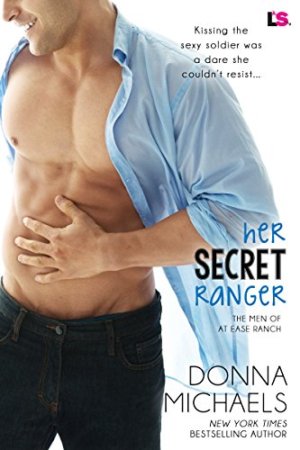 soon as he helps his brother get the ranch back in order after the recent storm that hit. However, meeting Beth Brannigan and spending time with her doesn't make it easy for him to be able to walk away. Yet, the more time they spend together, the more Brick realizes that Beth is hiding something from him. When he finally learns the truth, will he be able to forgive her for her secrecy, or will it ruin their chance of forever love?
He raised a brow. The woman was full of surprises. "Someone dared you to kiss me?"
"Sort of. I was supposed to kiss the next cowboy to walk through the gate. I'm just grateful is was you."
Well, hell. "You were willing to kiss a stranger?"
"No." She released him completely and stepped back, a flicker of unease clouding her gaze. "I refused until you strode in and I saw an opportunity to make this work to my advantage."
With this being the second book in the Men of At Ease Ranch series by Ms. Michaels and a story encompassing heroes that are former military, I couldn't wait to dive into this story to discover more about Brick. He was an exceptional secondary character in the first book, and I couldn't wait to read more about him, because he never planned to stay and help with what his brother and the others have decided to do to help veterans adjust to civilian life again. Would he change his mind?
The dialogue was intense due to what the men went through in their time in the military. Losing one of their friends wasn't easy for any of them, and I liked the way the men helped each other to cope with the lose even if some of them think that therapy isn't necessary. However, the dialogue wasn't all intense. Certainly, the banter ups the sexual tension between the main characters until neither of them can hold back their feelings, and their strong chemistry spills over onto the pages explosively and filled with plenty of heat and passion.
Brick was a fantastic hero, but Beth annoyed me a tad at times throughout. Secrets have a way of coming out, no matter how hard someone wishes them not to, and I felt she was a bit selfish. Because she continued to keep her secret to herself until it blew up in her face in the worst way possible. However, in saying that, Bree is hard-working, independent and I liked the lengths she goes to in proving how good she is in party planning. While Brick, he's confident, smart and would do anything for the men that have been by his side through thick and thin. He would never betray them, and I could understand why he reacts the way he does when he learns the truth of who Beth really is. Why didn't he trust his instincts more?
"Damn, my ears are still ringing." He shook his head, staring at the building in disbelief. "I think there's permanent damage."
She laughed, hooking her arm with his. "You'll live, cowboy."
"Yeah, but will I hear?" Entwining their fingers together, he smiled down at her, those sexy dimples of his making a grand appearance. "You feeling adventurous? Want to try to get some ice cream from the place down the street? Who knows? Maybe we can top off this perfect evening with a good case of brain-freeze."
Overall, Ms. Michaels has delivered another delightful read for this series, which has me looking forward to more from the heroes of At Ease Ranch. Not only because these heroes have faced tough times and deserve happiness, but because of how the epilogue wrapped this story up with one of the secondary characters facing a tough challenge. Moreover, I liked that the hero accepted the sound advice of some of the secondary characters, so he could make things right with Beth, because both needed the other, if they were ever to be completely happy in life. I would recommend Her Secret Ranger by Donna Michaels, if you enjoy the forbidden relationship trope.
Book Info:

Publication: March 6th, 2017 | Entangled LoveStruck | The Men of At-Ease Ranch #2
Kissing the sexy soldier was a dare she couldn't resist…
By-the-book event planner Beth Brannigan's best friend dared her to kiss a cowboy. She should have said no. Instead, she said please…again and again. If her brother finds out she's dating—okay, kissing—okay, sleeping with—one of his military buddies, he'll kill her. Assuming he doesn't kill his friend first.
Former Army Ranger Brick Mitchum isn't a relationship kind of guy. But then he meets Beth and starts to wonder if maybe it's time he settled down. She's mysterious. Unpredictable. Curvy in every way he needs… And hiding something. He's just got to figure out what.