Full Package by Lauren Blakely: Chase is in desperate need of a place to live and Josie needs a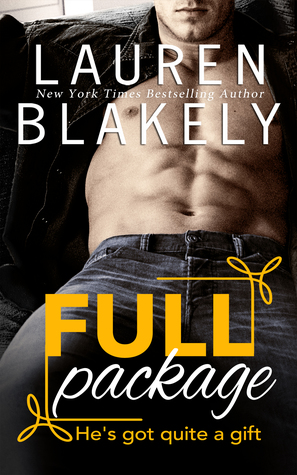 roommate. They are best friends, and have been for years, so they celebrate their good fortune in solving their living arrangement problems by moving in together. Things should work out nicely, especially as they have slightly different schedules. Josie owns her own successful bakery and Chase is an ER doctor.
The only problem is that Chase has always wanted Josie. He considers her to be "off-limits" as her older brother just so happens to also be his best friend. Living together is more difficult than anticipated and tests his control. As a doctor, he is skilled at compartmentalizing, but Josie is a temptation he can't escape…even if he wanted to.
"What color are my eyes?"
Her question doesn't compute. I snap my gaze back up to her face. "Green."
She points to the bridge of her nose. "And they're up here."
"Seriously? You were talking about boobs. Pragmatically speaking, I had no choice but to look at the topic of conversation."
Both of them truly value their friendship, but there is a palpable attraction between them. Wanting your roommate and best friend is tricky when both are single and trying to find a relationship in the tricky New York dating scene. Before long, they give in and agree to a roommates with benefits arrangement. Walking that line between the different facets of their relationship is funny, sexy, and confusing as feelings are involved.
"Separate drawers," I say with a nod. I mime opening a bureau. "We need to keep the sex thing in a separate drawer"-then I close it-"and the friendship in another."
If we don't, we run the very real risk of losing the friendship.
She flashes a brief smile. "Yes. Don't you think that's the best way for us to stay in each other's lives?"
Told in a male POV, Full Package is a sexy and entertaining friends to lovers story. Lauren Blakely entertains with flirty banter, jokes, and innuendo. Ms. Blakely developed strong characters with great relationships to their friends and family. Fans of Emma Chase and Kristen Proby will enjoy Full Package.

Book Info:

Publication: January 9th 2017 | Lauren Blakely Books |
From the New York Times Bestselling author of MISTER O and BIG ROCK, comes a hot & hilarious new standalone romantic comedy…
I've been told I have quite a gift.
Hey, I don't just mean in my pants. I've got a big brain too, and a huge heart of gold. And I like to use all my gifts to the fullest, the package included. Life is smooth sailing….
Until I find myself stuck between a rock and a sexy roommate, which makes for one very hard…place.
Because scoring an apartment in this city is harder than finding true love. So even if I have to shack up with my buddy's smoking hot and incredibly amazing little sister, a man's got to do what a man's got to do.
I can resist Josie. I'm disciplined, I'm focused, and I keep my hands to myself, even in the mere five-hundred square feet we share. Until the one night she insists on sliding under the covers with me. It'll help her sleep after what happened that day, she says.
Spoiler—neither one of us sleeps.
Did I mention she's also one of my best friends? That she's brilliant, beautiful and a total firecracker? Guess that makes her the full package too.
What's a man stuck in a hard place to do?