In A Royal Baby for Christmas (Christmas Miracles in Maternity #4) by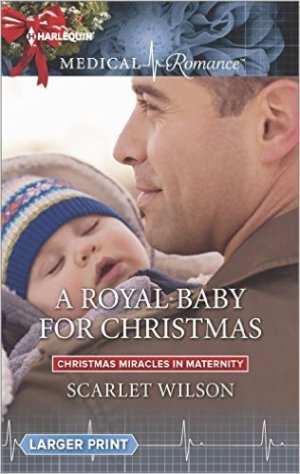 Scarlet Wilson , Sienna McDonald should have known there would be consequences when she agreed to have a brief fling with Sebastian Falco, the Crown Prince of Montanari. Learning she's pregnant not long after she returns home and resumes working at Teddy's, Sienna is determined to keep her baby a secret. Except somehow, Sebastian learns the truth and chaos descends on her life. Will she give Sebastian a chance, even knowing that she'll be forever in the limelight because of who he is?
"I'm not a queen-in-waiting, Seb." She shook her head slowly. "I've never wanted to be."
"You want the fairy tale. I can give you that."
She closed her eyes for a second. "You can give me the palace, the lifestyle, the people." She pressed her hand against her heart. "But what's in here? You need someone who wants to live that life. I don't think that can ever be me."
Once I started this story, the pages really flew by because it's set around Christmas, and encompasses the surprise pregnancy; opposites attract and second chance romance tropes. The prologue opened this story wonderfully, as we see how strong the chemistry between Sebastian and Sienna is and what happens when lies are exposed that tear these two apart. Can Sienna handle the truth about Sebastian? What will she do when it comes time to tell him about the baby? Will the hero be able to accept the decisions Sienna has made for her and the baby's future?
Both the main characters were entertaining, although the heroine was a little too stubborn at times. Yet, in saying that, her stubbornness wasn't in an annoying way. She just didn't want to give into the hero's demands, because she was protecting their baby and herself. No way could she handle being in the limelight, which is all she and their baby would be, if she gave Sebastian what he wanted. Besides, she had her career to think about. While the hero, he's confident, cocky and I liked how determined he was to make the heroine realize that there's no other woman besides her that could possibly make him happy. Their fling was the best time of his life, and what happened afterwards with the pressures he was facing with his family was something he'd rather forget, even though he would have gone through with it, if Sienna wasn't pregnant. Moreover, I liked how Seb talked about his family, and the one woman he always had the most fun with. His great-grandmother sounded like a real hoot.
"Who is Sophia?"
Seb smiled. "My great-grandmother. In public, probably the most terrifying woman in the world. In private? The woman I always had the most fun with. She taught me how to cheat at every board and card game imaginable."
Sienna couldn't help but smile. "You mean that the Falco family actually had some rogues?"'
He whispered in her ear. "I'll show you the family archives. We had pirates, conquerors and knights. We even had a magician."
Overall, this was a really good read Ms. Wilson has penned where the chemistry was wonderful and the characters proved that no obstacle is too hard to overcome. Not if the heroine is willing to let her guard down, and discover that love can be the best way to heal from the hurts of her past; hurts that were inflicted by those that should have loved her the most. The epilogue wrapped this story up nicely, because of how far Sebastian and Sienna have come and I liked how the heroine threatened one of the secondary characters if he did something she didn't want him to do. It was amusing, considering how such good friends they are. I would recommend A Royal Baby for Christmas by Scarlet Wilson, if you enjoy the surprise pregnancy trope, the opposites attract trope, or second chance romances.
Book Info:

Publication: November 22nd, 2016 | Harlequin Medicals | Christmas Miracles in Maternity #4
A gift for the man who has everything…
A brief, electrifying fling—that was all Sienna McDonald and Sebastian Falco, Crown Prince of Montanari, agreed to. But on her return to Teddy's, neonatal surgeon Sienna learns she's brought back more than just memories…
Sienna wants to keep her unborn baby out of the limelight, so Sebastian's sudden reappearance throws her perfectly ordered world into chaos. She does her best to stay away from the devastatingly charming royal, but Sebastian is determined to claim his family with a forever diamond this Christmas!