In Fully Ignited by Shannon Stacey, firefighter Scott Kincaid has decided he's ready to settle down.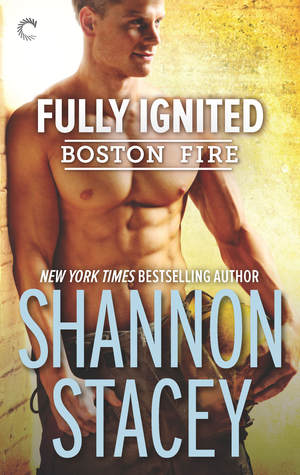 After seeing one sister marry his Lieutenant and friend, Danny, and seeing his other sister engaged to his best friend and fellow firefighter Aiden, he wants his turn at happiness. When Jaimie Rutherford walks into the fire house of Engine 59, Scott thinks she can be the one. The problem? She's temporarily his new boss while Danny is out with a broken leg.
Jamie feels an instant attraction towards Scott, but she's hesitant to get involved with him because she doesn't want rumors to spread about her sleeping with a co-worker. When Scott convinces her they can keep work and their private lives separate she's skeptical, but decides to give it a try.
I liked Jamie and Scott together, and was surprised about how well they were actually able to keep their work and private lives separate. When they were at work, they didn't interact unless it was necessary so they wouldn't give their co-workers any ideas. Despite how well they tried to hide things though, Danny, Aiden, Scott's sisters, and his father were able to see through them. It was nice to see Scott's sisters welcome Jamie into their group for the simple reason they knew their brother cared about her. They all rooted for Jamie and Scott to have a happy ending, even though Danny was concerned about Scott becoming involved with his superior.
This is the third book in the series, but it can be read as a stand alone. There were references to things that happened in the previous books, including several references to the way Aiden and Lydia had hid their relationship from Scott and how it almost ruined their friendship, but it wasn't enough to take away from the book if you haven't read their story.
In Fully Ignited, there's plenty of on-the-job and off-the-job action. If you enjoy books about firefighters, or have read and enjoyed the previous books in the series, you might want to check this one out.

Book Info:

Publication: February 23, 2016 | Carina Press | Boston Fire #3
When Jamie Rutherford takes a temporary assignment as lieutenant of Boston Fire's Engine 59, she doesn't anticipate any problems. She's been in the fire service for a long time and, even though she's fairly new to Boston, she knows how to make any firehouse her home. What she's not prepared for is her reaction to firefighter Scott Kincaid.
Scott is looking for a wife. It's been a fun ride as a single guy, but he's tired of being the third wheel, and nearly losing his brother-in-law finally made him realize just how much he wants a family of his own. When the new guy at the firehouse turns out to be a capable, confident and very attractive woman, his plan is completely derailed.
Hooking up with a fellow firefighter has never been part of Jamie's plan, but she's tempted by Scott—even though getting involved with him could tarnish the reputation she's worked so hard for. And Scott can't stop thinking about Jamie, despite the fact that she's his superior and not sticking around. Chemistry can crush the best-laid plans, though, and while Jamie and Scott might not be each other's future…there's no resisting the right now.