Game Play by Lynda Aicher: What happens when a girl with enough of a chip on her shoulder to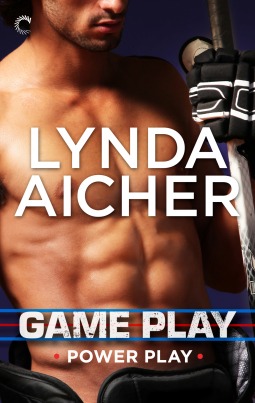 make an ice rink meets a professional hockey player? Will he be able to melt that chip or will he make it big enough for the entire team to play on?
Samantha Yates has spent her entire life living someone else's dreams, fighting that ceiling that never seemed to move for females. That was the way it was for female hockey players. She had been amazing and had the achievements and awards to prove it. The problem, now what. She wasn't able to make a living playing hockey, there was only a men's league. She could coach, but then it would always be about living up to her father's reputation. She just wanted to get out, far away, she would get her Masters and possibly her PhD and help the mental side of the game. Then she would be able to live her own life.
Dylan Rylie was living for hockey. That was the only thing that had kept him going for all these years. After his fathers death, his mother's spiral into alcoholism, and finally with his aunt's death hockey was all he had left really. He was lucky though he had a contract with a major league team but this was a contract year. He had to play above and beyond and if that meant working with a female to help get him on track than that was what he was going to do.
When Dylan is able to convince Sam to help him things are exactly smooth sailing but the problems come when there is so much heat to melt the ice around her that she freaks out and builds it up thicker. Does Dylan have what it takes to keep it melted? Or will Sam forever be pushing everyone away?
Game Play is one of those books that you can't put down. It's great for tomboy females who like to remember that they are female through and through.
The sports aspect it completely on target and even if you don't know hockey this will have you thinking you are on the ice and feeling the pain of the boards. It's also erotic enough to have you melting the ice you were on just pages (sometimes) before. It's also got enough female neurosis to make any man crazy and any female understand completely.
Game Play by Lynda Aicher is game on for anyone and a highly recommendable book.
Book Info:

Publication: February 16th 2015 by Carina Press | Series: Power Play, #1
One night, one time, nothing more. That's all it was supposed to be. They'd agreed their first night together would be their only night together—and Minnesota Glaciers defenseman Dylan Rylie was fine with that. Giant hickeys and claw marks on his ass had never been his style, even if the very memory of Samantha Yates's merciless sexual energy gets him hard within seconds. He needs to focus on getting a better contract, not mind-blowing orgasms.
One night, one time, nothing more. Fresh off representing the US at the Games and with nowhere else to play, Samantha gave in to one night of frantic passion with the Glaciers' brawny hotshot. She couldn't get hurt—not if she controlled the outcome. And she planned to leave Minnesota soon, anyway. She didn't expect to be recruited to coach Dylan after they'd gotten down and dirty.
When brutal on-ice workouts lead to kinky locker room sessions and "one night" falls by the wayside, Samantha insists on keeping things casual, despite Dylan's quiet hope for more. But when Dylan goes down—hard—and his career is in jeopardy, Samantha is the first one by his side. What will it take to keep her there after he's healed?