Her Amish Christmas Sweetheart by Rebecca Kertz; It was such a treat to read another Amish story set in Happiness, by Rebecca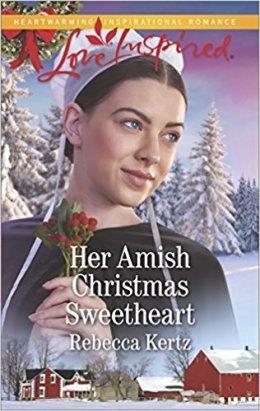 Kertz, and to be "reacquainted" with characters from her earlier series.
"Her Amish Christmas Sweetheart" takes place with the holiday season approaching, and Peter and Meg are asked by his father and her mother to plan a surprise joint birthday celebration for Peter's mother and Meg's father. The two families are extremely close friends. Peter and Meg once had strong, secret feelings for each other, however, Meg now is being courted by someone else, and Peter is trying to get over his feelings. However, when Meg and Reuben are in a serious buggy accident and she is laid up for weeks recovering, Meg and Peter start growing closer again during their planning of the surprise.
One of my favorite parts of this novel is the same aspect that touches me about every Amish novel I read: the strong family bonds, the focus on family and community, and community members being there for each other. This was such a "feel good" story to read!
Book Info:

Publication: November 21, 2017 | Harlequin LoveInspired | Women of Lancaster County
Years ago, Peter Zook would have been thrilled to spend the Christmas season planning a surprise party with Meg Stoltzfus. But that was back when he still hoped to win her heart. Instead, he waited too long to speak up, and now she's being courted by another man. Though Meg once harbored secret feelings for Peter, it seemed he would never notice her. So she's finally moving on. Yet even as they butt heads over the party details, Meg and Peter's bond deepens beyond camaraderie and friendship. Will they continue to deny their true feelings, or will Peter and Meg give each other the ultimate gift this Christmas—their hearts?
Blurb from Amazon as Goodreads doesn't have a blurb yet.