In Guarding Erin by Nicole Flockton, Erin Furlan thought she had finally untangled her life from her mob boyfriend, but when he turns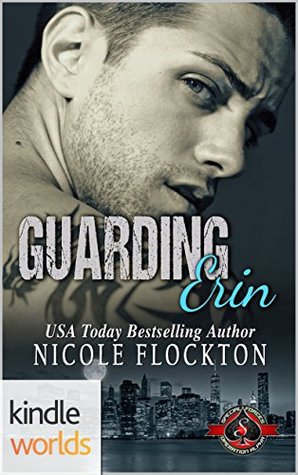 up on her doorstep, Erin knows trouble won't be far behind. So, when Carlos Porcelli — her former sweetheart and the only man she's loved — discovers how much trouble she's in, he promises to do everything in his power to keep her safe. However, as much as they both try to protect their hearts, there's absolutely no denying their past feelings are still strong. Will Carlos be able to protect Erin, so they can have a second chance at forever after; or will Carlos walk away from the woman he loves again?
"What are you doing here?" she demanded.
He shrugged. "Having a beer and a pizza. I've missed New York pizzas."
"Really? How convenient you happen to be at the same place I'm having dinner with my girlfriends."
He quickly changed the way he sat so he trapped her between his legs. "A happy coincidence for sure."
Her body stiffened at the contact of his thighs against hers. "That's a bulls*** line if I've ever heard one. How about you tell me the real reason why you're here?"
Being the second book Ms. Flockton has penned for the Special Forces: Operation Alpha Kindle World, I was really looking forward to reading this, and I've got to say that this story does not disappoint. Really, this book has everything – fantastic tension between the hero and heroine as they were once involved; wonderful banter as the heroine allows her annoyance of the hero to be known when they first come face-to-face; and a captivating storyline that encompasses the perfect blend of romance and suspense that had me reading this story really quickly in one sitting. The way this story starts had me loving the hero immediately, as he's a protector and a man that would do anything for someone he loved, even if it means making tough decisions including going against everything that's been ingrained in him as a military man because taking orders is important.
Both the main characters are brilliant, and I loved the moment these two come face-to-face for the first time in this story, as the heroine isn't afraid to let her displeasure of Carlos being back in her life show. Really, this moment was one of the best, as Carlos does his best to get the heroine to warm up to him by being charming and persistent. Moreover, the heroine knows that she made a mistake getting involved with her ex, and disentangling herself from him hasn't been easy, especially after what she did that has made him angry with her. Will Erin ever be free of her ex? Will Carlos be able to keep Erin safe? The heroine is also resilient and brave when it comes to standing up to her jerk of an ex; and I liked that she gave the hero a chance, even knowing that he could hurt her again. While the hero, he had it tough growing up and I could understand why he did everything in his power to keep some things about his past hidden from the heroine. I also liked the hero's confidence and his determination to protect the heroine and win her over. Will they get their chance at happy ever after? Will the heroine's ex destroy Erin and Carlos's second chance at happiness?
"You're going to pay for that, later."
Her body shuddered at the method of payment he was going to extract from her. "I can't wait."
"I think I should come up with a nickname for you," he said as he stood and pulled her up into his arms.
She automatically wound hers around his neck. "Oh really, Honey and E, aren't nicknames?"
"Sure but I think you need a special one."
Overall, Ms. Flockton has penned another superb read in this book where the chemistry between Carlos and Erin was intense; the romance hot and illustrates how much these two need each other and how much they deserve a second chance; and the ending had me on the edge-of-my-seat due to what Erin goes through because of her ex. However, in saying that, I really enjoyed how things worked out for the hero and heroine, as they're a couple meant-to-be and they shouldn't let anything stand in their way of getting their second chance. I would recommend Guarding Erin by Nicole Flockton, if you enjoy romantic suspense, second chance romances, or books by authors Susan Stoker, Heather Sunseri, Jordan Dane and Jenika Snow.

Book Info:

Publication: November 7th, 2017 |  | Special Forces: Operation Alpha Kindle World
When Carlos "Italy" Porcelli helped a former SEAL brother, he never expected to come face to face with his high school sweetheart, Erin Furlan. The second he finds out her life is in danger from her former mob boyfriend, he will do everything in his power to protect her and keep her safe. Guarding his heart from remembering the past and wishing for a future will take all his steely SEAL resolve.
Erin Furlan believed her life was back on track after her mob boyfriend got arrested when the family he worked for got taken down. How wrong she was. Now he's back and wanting retribution. What she never expected was Navy SEAL and former sweetheart, Carlos Porcelli, to swoop in and save her. As she tries to break away from her ex's hold, she's drawn closer to Carlos. Erin's not sure her heart can take another beating, as she's certain Carlos is going to walk away from her again.
Being in close confines, their past filters into their present and when Erin is kidnapped, Carlos will do anything to save the woman he's falling for. He only hopes he reaches her in time.