In Her Hot Highland Doc by Annie O'Neill  , working in an ebola infected environment and then coming home to run his father's clinic,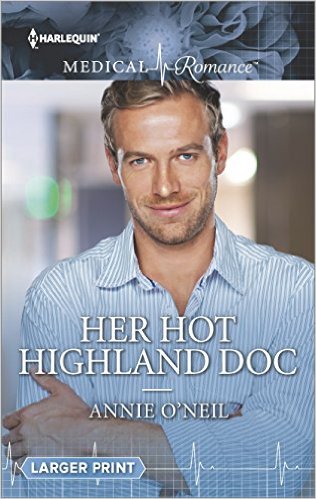 has left a lot of people wary of Dr. Brodie McClellan. Patients are avoiding him like the plague, even though there's absolutely no chance he's contagious after being in quarantine for the number of days he had to be. Luckily, he has Dr. Kali O'Shea helping him out for a while. Can she help him find a way to assure patients that he is capable of being their doctor while convincing Brodie to let go of his painful past, so they can have a chance at happy ever after?
"Let's just say life's had a way of regularly shoving me into the Valuable Lesson department." She tipped her head onto his shoulder.
"Oh yeah?" He wove his fingers through hers and leaned his head lightly on top of her silky black hair. "What's today's valuable lesson, then?"
"Sticking together," she said without a moment's hesitation. "Through thick and thin."
"This being the thin?"
He could feel her head nod under his. "Thin being the thin."
What do you get when you mix a Scottish doctor determined to keep the promise he made to his father and a heroine running from her past? A really fantastic book that is well-written, has the perfect combination of intense and playful dialogue and filled with plenty of emotion due to the main characters back stories, the medical scenes Brodie and Kali have to combat and what happens to Brodie's brother that finally reunites the pair. The way this story started introduces readers to the hero and the painful memories he has of being back in his hometown. Can he ever be happy in Dunregan again, or will his guilt over what happened to his mother continue to drive him away?
Brodie and Kali are delightful characters, and grow very close throughout this story, even though Kali hasn't had the best of luck with men. Since a man is the reason she's running from her past and trying her hardest not to draw attention to herself. Indeed, she's strong, brave and despite how much she's been through with her father and the man he tried to arrange for her to marry, she's a fighter, which is proven through everything she's been through and is dealing with alone because she's been separated from those she loves – her mom and her sister.
While Brodie, he's been through so much and being home in Dunregan brings up painful memories by finally forcing him to face the past. What happened to his mother wasn't his fault and he needs to realize that, if he's to ever be truly happy. Also, it isn't easy for him to deal with the fact that the patients would rather see Kali than him, but I liked how he supported the heroine to make sure she wasn't overwhelmed by all she had to do. Then there's the close relationship he has with his aunt, which I found quite amusing. She gives great advice and isn't afraid to call him out on his moods, because she wants him to be happy and she thinks Kali can make him happy.
"So, what do you say?" He rubbed his hands together briskly. "We take on the islanders one by one, or gather them all up in a stadium and do it warlord-style?"
"I was thinking more softly, softly–kitten style."
"You think I'm up to being a kitten?" Brodie snorted as Kali feigned imagining him as a kitten.
"Maybe more of an alley cat. With an eye patch and a broken tail."
"Ah—so well have a cat fight at the end?"
"Purrr haps," she purred, completely capturing his full attention.=
Overall, Ms. O'Neill has penned a wonderful read where the secondary characters entertained me as much as the main ones, especially when they were trying to play matchmaker. Because the chemistry between these two is there from the beginning; chemistry that is palpable to the secondary characters, and eventually spilled over onto the pages to illustrate how good these two are together. The way this story ended had me worried that this couple wouldn't get their happy ever after with the secret Kali is hiding, but I was glad how everything worked out. Kali is free to live her life without needing to worry that those she thinks might come after her will find her. I would recommend Her Hot Highland Doc by Annie O'Neill, if you enjoy the friends to lovers trope or books by authors Amy Ruttan and Tina Beckett.
Book Info:

Publication: March 1st, 2017 | Harlequin Medical |
A match made in Scotland
He might have the good looks of a modern-day Viking, but Dr. Brodie McClellan has brooding down to an art. He's only recently returned to the Isle of Dunregan and already the demons of his past are pushing him to the edge.
Running from her own troubled past, this remote posting is heaven-sent for locum Dr. Kali O'Shea. And Brodie makes her long to find her true home in Scotland…in her new boss's arms!