I love a little mystery with my romance and Hideaway Cove (Windfall Island #2) by Anna Sullivan has just the mystery that I was looking for. Although I did not read the first book in the series (I am pretty sure that the mystery started there) the storyline was easy to pick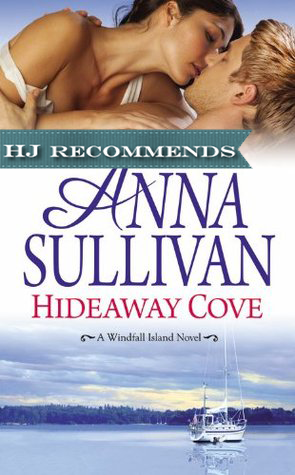 up and I was soon sucked in.
Jessi Randal is a single mother to a seven year old boy, she also helps run the charters business owned by her best friend, Maggie. She's a strong, sweet and a very likeable character. She's an excellent mother and friend to everyone, she gives so much of herself she doesn't have time to think about her needs or wants until Holden challenges her see them.
Holden is in town to help solve the mystery of the missing Stanhope heir and breaking down Jessi's walls is a bonus. The possibility of Jessi and her son being the heirs could put them in serious danger and it brings out Holden's protective side. They have a relationship full of hope, lust, secrets and love and they finally find someone they can trust wholeheartedly and love deeply with each other.
This was a very enjoyable read. The mystery spun around the romance was amazingly written. It's a captivating, thrilling and sweet love story. I would really like to go back and read the first book to just to catch up, and I an looking forward to the continuation of this wonderful series. I gave it 4 mysterious stars.
Book Info:

Published July 29th 2014 by Forever |  (Windfall Island #2)
SOME PASSIONS CAN'T BE DENIED . . .
Jessi Randal walked away from her last relationship with a baby and a broken heart. Now, years later, the last thing this single mom wants is to give Windfall Island—and all its nosy residents—anything more to gossip about. But the moment she lays eyes on the tall, sexy stranger with the slow Southern drawl, she knows she's in delicious trouble . . .
Holden Abbot is on the island to find the missing heir to the Stanhope family fortune. It's his job to charm as many secrets out of the town as possible. And if he can charm Jessi into his bed, even better. When all evidence points to her as the heir, a dangerous enemy sets his sights on Jessi and her son. Now Holden will have to risk everything to protect the family he's come to love.