His Defiant Princess (Royal Holiday #3) by Kathleen O'Brien: A love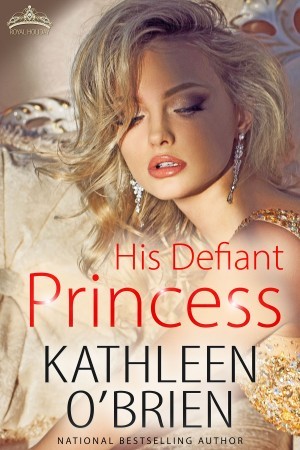 greater than time, a love greater than royalty, a love stronger than pain.
Brenna Tinley spent the best three months of her life nine years ago when she was in her gap year. Then the man she thought she knew left and her life would never be the same. Still in those nine years she married, lost the greatest man in her life and moved across the country with her best friend to open their own PR firm. So what is going to happen next?
Ronan Vicenza was the playboy prince. After all he was the spare heir so to speak so he could have fun and enjoy himself. However he was hiding, he was hiding from his feelings and his heart. When he had his gap year nine years ago he fell in love with someone immensely unsuitable and he knew that. Then three months into the affair he was called back and forced to think of his kingdom, his heritage.
When Brenna is called in to clean up a royal mess she and Ronan are brought together again and this time they are both older, wiser and honest. Unfortunately life doesn't always make things easy. Will these two be able to put aside pretense and be real with their feelings or will they be forever trapped in protocols?
Could not put this novella down, for anything. Ms. O'Brien has outdone herself with this novella. Not only is the writing style real and flowing, the characters come to life and become so real that even the secondary ones you want happy endings for, speaking of I am looking for Emory's story as well as Willow's. There really isn't much to say other than stop reading this review and go read the book, that is if you like well written love stories that prove things may happen but true love really can over come everything.
Book Info:

Published April 23rd 2015 by Tule Publishing
Brenna Tinley has decided to move to the Unified Isles of Cornetta, a fairy-tale kingdom just south of France in the Bay of Biscay to escape the recent tragedies in her personal life. The happiest summer she can remember was spent there, in the arms of a handsome, tender rascal who disappeared without a goodbye when Autumn came…
As fate would have it, the Royal House of Vicenza has engaged Brenna Tinley to clear up a public relations mess. It's the opportunity of a lifetime for this small-town American girl, but there's only one problem. Her new employer, HRH Prince Ronan, aka her mystery summer lover of long ago, seems determined to pick up where they left off. Can Brenna work in the royal palace and not end up with a brand new broken heart?