His Drakon Runaway Bride by Tara Pammi: The third story in the Drakon Royals series by Tara Pammi is a passionate and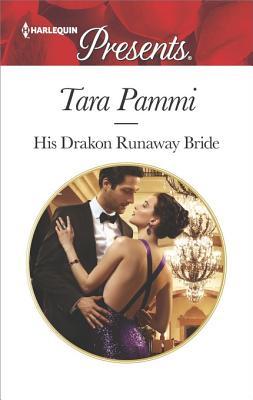 entertaining second chance romance, with Crown Prince Andreas Drakos having his turn at a happy ending.
Andreas knew his duty to his family and country when he fell for his father's ward Ariana. A bright, spirited young woman, he married her and brought her home. But the stress of trying to be everything his demented father required left her more and more in the shadows, and eventually Ariana ran. When he found out she had died, he grieved and fell into an even colder and more lonely existence.
Upon learning from his dying father that Ariana was in fact still alive, Andreas searched for her for two years and found her as she was about to wed another. Because their divorce papers had not been filed before she 'died', Ariana finds herself still wed to Andreas, and Andreas takes her home to Drakon. Presenting his country with a wife will go far to rehabilitating his reputation with his people who suspect him of suffering from the same madness as his father. At one time Ariana and Andreas trusted and cared for each other until his scheming father tore them apart. Can they recapture the love they once shared?
Having read all of the previous stories in this series, I had seen glimpses of Andreas already as secondary character, a cold man driven by duty. But now we find out why he is that way, and that his heart is not missing, just frozen in time from when he'd loved and lost Ariana. He comes across as a man who is still torn between duty and desire, but with the added knowledge that the anger he felt towards Ariana for a multitude of reasons is no longer valid upon learning the truth behind her disappearance. He may be married to her still, but it's a marriage in name only until she says otherwise, which is a point in his favor as he could have tried to use the sexual attraction between them to force her hand. Their eventual love scenes are steamy and emotional.
Ariana had to adjust to a new life and identity without Andreas, working with a legal agency involved with a women's shelter. She is passionate about not leaving that work behind and getting her law degree even while married to Andreas, something he comes to respect. She carries another secret that once revealed threatens to put a rift between them even as they are starting to adjust to married life. Fortunately, they've learned by now that communication and honesty are what's required if they really want to have a happy future together. Both characters show growth and positive change over the course of the story and with a sweet epilogue, this couple puts the past firmly behind them and embraces a happy future together.

Book Info:

Publication: Aug 22, 2017 | Harlequin Presents | The Drakon Royals #3
Found–his long-lost bride! Ariana Sakis walked out on Crown Prince Andreas Drakos, knowing her feelings were unrequited. For ten years she has hidden herself away, determined to never be made vulnerable by passion again…and believing herself divorced. Until her new wedding day is interrupted by Andreas himself, declaring them still married! Furious at her betrayal, Andreas won't let Ariana escape him again. He'll take his revenge by claiming Ariana for his throne–and his bed! But their passionate reunion threatens to undo dark-hearted Andreas, and he soon realizes that desire is even more binding than duty…