From the Start by Cheryl Etchison: After being led on for years by a military man, Kacie Morgan has no desire to get involved with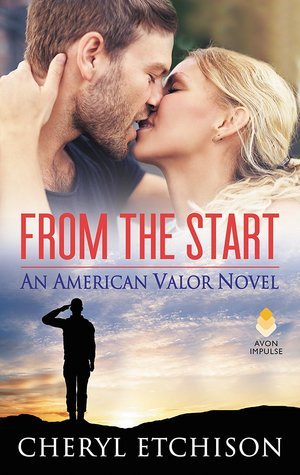 another one. Yet when she meets Ranger Battalion Surgeon Michael MacGregor at a bar where her sister was having her bachelorette party, she begins to reconsider her position. She's leaving town shortly for a year long residency and research position at Duke, so she thinks a quick fling would be just what she needs to move on from her ex.
Michael is at a crossroads. He needs to decide if he wants to reenlist or move on. He as no desire for a relationship, but when he meets Kacie he begins to have second thoughts. The more time they spend together, the more she makes his decision harder to make.
While I enjoyed the book, I didn't like it as much as the second book in the series. I haven't read the first book in the series, which is actually about Michael's brother, Danny, and his wife, Bree, who appear in this book quite a bit. I think part of the reason I wasn't crazy about it was Michael's need to sacrifice himself for Danny. His original dream had been to be an oncologist, but once he found out Danny joined the Rangers, he gave up his dream to join as well. When Danny was gravely injured, Michael was the one that had to save his life, which he still had nightmares about. Every time Danny reenlisted, Michael followed suite simply because his mother had made him promise to look out for Danny before she passed away. He's clearly unhappy in the military, but when Danny considers reenlisting again, he once again considers doing the same.
As much as Michael meant well, it seemed like he basically gave up his life for Danny. He could have realized at any time that Danny could take care of himself instead of giving up almost twenty years of his life, twenty years of happiness, to follow him around the world. Even when Kacie tries to show him that there are other options, he refuses to see them. It irritated me how it was described over and over again how unhappy he was, yet he refused to make an effort to change.
Kacie knew what she wanted and went after it, not letting anyone stand in her way. There were times when she was sad and down, but she never let it stop her from going after her dreams.
Despite my issues with Michael's life decisions, I still enjoyed the story. I enjoyed seeing the couple get to know each other, as well as their families. I liked Bree, who wasn't afraid to stand up to Michael or to call him out.
Bree shook her head. "Nooo. I know you, Michael MacGregor. Everyone else might think you're a Boy Scout, but I know just how much of an arrogant ass you can really be."
This can be read as a standalone. While there is some mention of the incident where Danny was injured, it's also covered in enough detail here that, if you're like me and haven't read Danny's story, you won't be feeling left out. If you enjoy military romances, this is a good series to read.

Book Info:

Publication: May 23, 2017 | Avon Impulse | American Valor #3
For many women, Ranger Battalion Surgeon Michael MacGregor is the ideal man. He's far better than average looking, a generous tipper, not to mention an officer and a doctor. So when he encounters a woman resistant to his charms, he finds himself… intrigued.
Kacie Morgan has had her fill of arrogant military men since the last one left her with a shattered heart and one heck of a career rut. Now, with her prestigious fellowship starting in the fall, all she has to do is survive the summer—and her little sister's wedding.
When an ill-fitting bridesmaid dress has Kacie wanting to temporarily shake things up in her carefully planned life, she knows just the man to call. They agree to a no-strings, summer fling, although it isn't long before Michael wants Kacie for forever.
But to win her heart, he'll have to confront the nightmares from his past if they're to have any chance at a future.