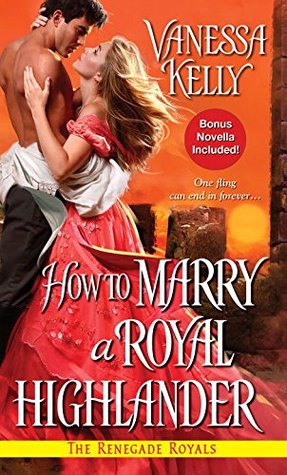 How to Marry a Royal Highlander by Vanessa Kelly: Sometimes the chemistry between two people is so strong that it can scare them both. Then when forced into a contained space it just might have the possibility of igniting.
Eden Whitney was almost at her wits end. It's not that she wasn't happy for her twin or for her friends but she wasn't sure why it wasn't her. So she decided she would sneak out of the party with a rake and kiss him, just to see what the fuss was about. The problem was she couldn't see what the fuss was about and just has she was showing the rake that she didn't see, in walks one of the ton's biggest gossips' and life as she knew it was about to change forever.
Alasdair Gilbride had fled from his home at sixteen and had been doing fairly well. He spent time overseas, worked for her majesty and had done well for himself and for the earldom he was to inherit. Now he was being ordered home after ten years away and he just wasn't sure he wanted to. In fact if he was honest with himself he was sure he didn't want to.
Edie and Alasdair were seemingly always at ends with one other but now they needed each other even if they couldn't bear to admit that fact. After an eleven day trip to Scotland, several attempted murder attempts and all sorts of family drama something was bound to explode, the only question would be who and what would be left standing at the end?
The fourth in the Renegade Royal series Ms. Kelly has yet again taken us back to a time where honor and deathbed promises meant something. Where google didn't exist and where true love really could conquer everything. This is one of a series that yes does help to expand on people you've met in other books but is fully functional as a stand-alone. It's a great read on people and their mentality as well as being full of complex characters that make it stand out in a room full of other novels. Take this trip back in history is you like complexity, history and true love.
Book Info:

 June 30th 2015 | Zebra | The Renegade Royals #4
Illegitimate yet thoroughly irresistible, the Renegade Royals are leaving behind their careers as daring spies for the greatest adventure of all…
At sixteen, Alasdair Gilbride, heir to a Scottish earldom, fled the Highlands and an arranged betrothal. Ten years later, Alasdair must travel home to face his responsibilities. It's a task that would be much easier without the distracting presence of the most enticing woman he's ever met…
After one escapade too many, Eden Whitney has been snubbed by the ton. The solution: rusticating in the Scottish wilderness, miles from all temptation. Except, of course, for brawny, charming Alasdair. The man is so exasperating she'd likely kill him before they reach the border—if someone else weren't trying to do just that. Now Eden and Alasdair are plunging into a scandalous affair with his life and her reputation at stake—and their hearts already irreparably lost…