I Knew You Were Trouble by Lauren Layne: Taylor is intelligent, determined, loyal, feisty, and has a bit of a reputation for being an ice princess. She's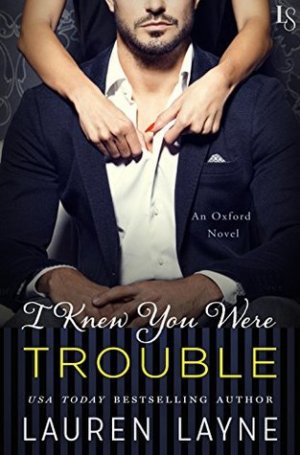 reserved and has struggled to make friends after being raised by her career-driven, emotions hating aunt. She learned early on that emotions are messy and get in the way of ambition. She was taught to be strong and independent.
Nick is oh so sexy. He may enjoy his more unsettled existence as a part-time bartender, writer at Oxford, and author with the freedom that brings, but he's also traditional in that he wants a wife and kids. Nick is smart, honorable, and seemingly capable at everything he tries.
Taylor is pleasantly surprised to find out that all of her male coworkers are extremely attractive when she starts her new job at Oxford. But only one of them gets under her skin like no other. Taylor and Nick get off on the wrong foot from her first day and it sets the tone for their interactions moving forward.
He grinned as she glared. "Now, what can I get for you, Carr?"
"Thought you were supposed to be some sort of cocktail miracle worker. Make me something."
He scratched at his chin, surveying the bottles in front of him on the table. "Shit. Of all the days to forget the arsenic."
But it's Nick who comes to her rescue when she's unceremoniously dumped on the same day she was supposed to move in with her boyfriend. Nick and Taylor can hardly stand each other, so living together should be an interesting experiment when there's a palpable attraction underneath the snarky banter. As reluctant roomies, they can't fight the attraction or the what ifs by finally acting on their growing feelings.
"You know how annoying it is, right? That you're insistent on being a good person when I've been so determined for so long to hate you?"
"You never hated me," he said with a short smile. "You were just pissed I figured out you have a heart."
"Possibly."
I Knew You Were Trouble is an irresistible combination of funny and sexy in this coworkers to enemies to roommates to lovers tale. Lauren Layne entertains with the pop and sizzle of every interaction between Taylor and Nick. Ms. Layne provided a rich cast of characters set in the Oxford world. I Knew You Were Trouble can easily be read as a standalone in the Oxford series. Fans of Julie James and Sydney Landon will enjoy I Knew You Were Trouble.

Book Info:

Publication: Published June 13th 2017 | Loveswept | Oxford #4
New York City' s hottest bachelors are stirring up trouble in this fun, flirty Oxford Novel, as a love triangle forces a feisty beauty to choose between winning back Mr. Right or giving in to Mr.
Wrong.
Taylor Carr has it all a sleek job in advertising, a stunning Manhattan apartment, and the perfect man to share it with: Bradley Calloway. Even after Bradley dumps her for a co-worker on move-in day, Taylor isn't worried. She'll get her man eventually. In the meantime, she needs a new roommate. Enter Nick Ballantine, career bartender, freelance writer and longtime pain in Taylor's ass. Sexy in a permanent five-o'clock shadow kind of way, Nick knows how to push Taylor's buttons, as if he could see right through to the real her.
Nick's always trying to fix people, and nobody could use a good fixing more than Taylor. Sure, she's gorgeous, with mesmerizing silver eyes, but it's her vulnerability that kills him. Now that they're shacking up together, the chemistry is out of control. Soon they're putting every part of their two-bedroom apartment to good use. Then Taylor's ex comes crawling back to her, and Nick figures she'll jump at the chance to go back to her old life unless he fights for the best thing that ever happened to him.
Don't miss any of Lauren Layne's juicy Oxford Novels:
IRRESISTIBLY YOURS | I WISH YOU WERE MINE I SOMEONE LIKE YOU | I KNEW YOU WERE TROUBLE