In from the Cold by Meg Adams is a sweet read between a complicated single father and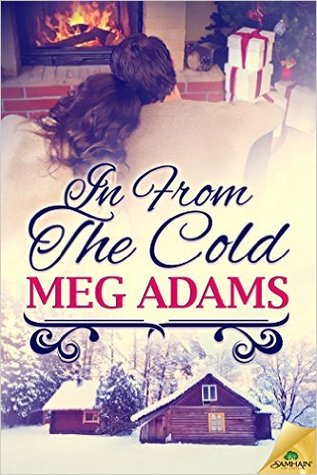 the nanny who's been hired to take care of his daughter.
Claire loves kids. She understands them and immediately jumps at the chance to take care of them. To say Claire and Drake don't get off on the right foot, is an understatement. When she first meets Drake, it's because he's been neglecting his daughter. He's too busy taking a business call instead of watching his three-year-old. Who knows what would happen if Claire wasn't the one to step in and keep an eye on her.
When Drake and Claire realize they will be staying in the same place and she's the one who's been hired to take care of his daughter, things get interesting.
Drake and Claire both have pasts. Drake is getting over his wife cheating on him with his best friend and Claire is trying to get past the trauma her ex-boyfriend put her through. Both characters are broken in some way, but whenever Drake and Claire are together they feel complete.
Throw in two adorable little girls, a damaged woman, a sleazy playboy, and a tragic accident and you have yourself an interesting read in In from the Cold by Meg Adams.

Book Info:

Publication: November 10th 2015 | Samhain Publishing, Ltd. |
Professional nanny Claire Iverson has wiped enough noses, butts and spills to qualify for a PhD in raising kids. She knows a toddler with a potty crisis when she sees one, and it's clear this child's impossibly handsome father doesn't, since he's sound asleep on the flight to Jackson, Wyoming.
Getting burned by her ex-boyfriend left her gun-shy around men, but when it comes to this beautiful little girl, she has to speak up. Just her luck, it turns out the man she just dressed down is her new boss.
Between his roles as full-time CEO and full-time father, Drake Driscoll is exhausted. If he can seal the next deal at his upcoming holiday house party, he'll have room to breathe. He never expected for his daughter's new nanny to take his breath away.
Claire hesitates to accept the warmth that beckons in Drake's arms. But soon their attraction ignites, pulling them in deeper than either of them expected. Into passion that could weld them forever—or burn them to cinders.
Product Warnings: Hot chocolate, cozy fires, snowball fights and sizzling ski hut sex = one very merry holiday!