Interception is the third book in Angela McPherson's Distraction series, and is best read after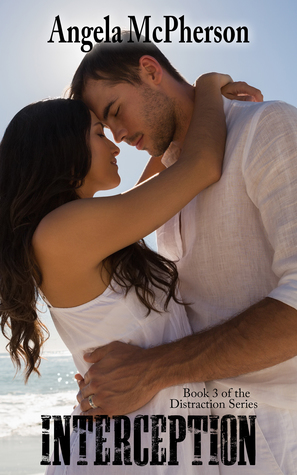 reading the previous book. I have not read the prior books, and while it felt like I was missing some background on their Tristan and Elle's relationship and what happened to Alyssa, it wasn't enough to take away from my overall enjoyment of the story.
The series follows the relationship of Tristan and Elle, as wells as their relationships with their friends. In this book, college graduation is looming on the horizon. Tristan is being drafted into the NFL while Elle, willing to go anywhere with him, is concentrating on her dream as a journalist. When an unexpected pregnancy happens, both are also excited to be starting a family, until tragedy happens and Tristan's ex pops back into the picture.
I admired Elle. She went through a lot, from having a miscarriage to dealing with Tristan's ex and the secrets she revealed to both of them, yet she did it with a great amount of class. There were so many different ways she could have handled with situation with Kellie (the ex), yet she embraced the situation and showed how big a heart she truly had.
Tristan also embraced the situation, and took care to make sure Elle was really alright with everything. He showed over and over again how much she meant to him while trying to take Kellie's feelings into consideration.
I felt bad for Paul, one of Tristan's best friends, considering the reunion he wanted with Alyssa wasn't going to happen. Not having read the previous books, I wasn't sure why he wanted to get back together with her or what their previous relationship was like, but I felt for him and the desperation he felt to have someone love him. I hope he gets his own book with the chance to find the happiness and love he wants.
I enjoyed this one and would recommend it, especially to those who have read the previous books. It was a nice conclusion to the series.

Book Info:

Publication: December 13, 2016 | Untold Press | Distraction #3
Four years of college is coming to an end, and Tristan Daniels and Elle Richards are ready to take the next step toward a future together. Tristan gets drafted into the NFL, and a small newspaper offers Elle her dream job. Their happiness is within reach.
But life has a way of intercepting everything they've worked so hard to accomplish.
Love is defined in moments of weakness. Though it's been months since Elle's miscarriage, the pain remains an agony that threatens to undo her. True to form, Tristan is the rock, even as he watched the love of his life rushed to surgery. Thrown into chaos, the couple learns to work through their hurt and find solace through the heartache.
Until someone from the past resurfaces and seeks to shatter them for good.
From the beginning, no distraction could keep the best friends apart. Love became an addiction too strong for them to ignore. Now, before they can have a future, they must learn to conquer hardships and embrace what is truly important—
Each other.