Jordan Reclaimed by Scarlett Cole: Jordan is struggling with change. He loves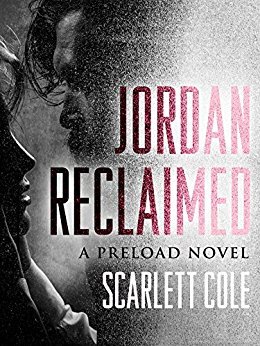 his band and never saw a future where he would become a famous musician with a world tour and hit songs. While he loves the music, what he really treasures is being in the band and experiencing it all with his foster brothers who are his family.
Aleksandra has devoted her life to ballet. She's a principal ballerina in the National Ballet of Canada and she has earned the lead role in a number of upcoming shows. She loves to dance and enjoys choreographing for herself when she's not rehearsing or taking classes. As an only daughter of a former dancer, she's also had to navigate her career through the hopes, dreams, and ambitions of her father.
Jordan was mesmerized when he first saw Lexi dance. She was elegance, grace, and power personified and soothed something inside him. He wanted to get to know her, but was reluctant since she lives in such a different world. Lexi wants to build on that immediate connection she felt when he watched her, but he's skittish.
"Fine. I was worried about you getting home okay in the snow."
"You were thinking about me?"
He ran his hand through his hair. "Yeah. I was thinking about you," he admitted gruffly.
Jordan had a very difficult childhood and is still dealing with the baggage of those early years. He's enjoyed the rock star lifestyle and never had an interest in a serious, committed relationship but there's something about Lexi that makes him want to try. Jordan and Lexi have great chemistry and just seem to fit. But both have very busy schedules and careers that require traveling. They give each other something they didn't know they needed.
"But then, on the walk home, I realized how badly both of us want me to be."
The bottom fell out of Lexi's stomach. She didn't want to believe a word Jordan was telling her. Taking a deep breath, she composed her thoughts. "If you can give me three reasons that make sense, I'll go. Make me understand your reasons and I walk away."
Jordan Reclaimed is a potent mix of angst, romance, pain, growth, change, and heat. Scarlett Cole developed characters and an engaging story that reels you in. Ms. Cole created a great cast in the band and I'm looking forward to seeing each member get his own book in this series. Fans of Joss Wood and L.A. Fiore will enjoy Jordan Reclaimed.
Book Info:

Publication: Published February 28th 2017 | Swerve | Preload #1
Jordan Steele's life began when he was ten. When he was taken from his parents and a house that was never a home. When he met his brothers, the other lost and abandoned boys in his group home. When he learned what friendship and family and love looked like.
Now he's made good, touring the world with the band he and his brothers formed in that crowded group home. No one but his found family really knows the man under the fame and fortune, the scars he hides behind the rockstar lifestyle. Until he sees her through the windows of the National Ballet, dancing, and suddenly the world doesn't seem so dark.
Aleksandra Artemov ticks all the ballet boxes. Father a legendary Kirov dancer. Check. Prepping since birth for classical ballet. Check. Compulsive control over the food she eats. Check. Principal dancer at The National Ballet of Canada. Check. But what she craves is freedom.
She craves Jordan.
Everything about him should terrify her. His size, his tattoos, his edge. But he doesn't. He stirs her very soul. Jordan has nothing but himself to offer her, and he's never been good enough for anyone. Can he figure out how to face his own demons before he loses his light for good?