Kidnapped for the Tycoon's Baby by Louise Fuller is a sexy, one night stand romance where the resulting pregnancy leads to a life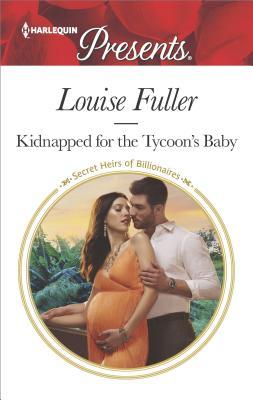 long relationship between a female computer hacker and her billionaire boss.
Nola Mason, in Australia on assignment for her company's computer security business has made a point of avoiding the man who hired her, Ramsey Walker, as much as possible. She knows that mixing business with pleasure is a mistake, after a previous workplace romance went sour and she ended up humiliated. But Ram can be very persuasive, and they share one explosive night together. Ram is clear before they hook up that it's a no strings attached night, as he's not interested in marriage or a family. Nola agrees – but soon finds after she's returned to Scotland that she's pregnant.
Believing Ram had meant what he's said, she doesn't tell him about the pregnancy and only returns to Australia when her business partner can't. She hopes to be able to avoid Ram, but her luck runs out when he returns early from a business trip. Stunned with the news that she's pregnant, and still miffed that she left their night together while he was still sleeping, he kidnaps her with his private plane to his rainforest oasis. Ram might not have wanted a family, but he's not going to let go of Nola and their baby without a fight. Has this confirmed bachelor met the woman who'll change his mind?
I really like this author's writing style and found this story to be quite engaging. However there was a plot decision at that start that I thought was questionable. Nola sees Ram with another woman and much is made of his typical playboy behavior. But when they have sex, his only concern is that she's protected from pregnancy (i.e. using birth control) and they don't use a condom, which was an odd decision from both of them considering how many partners he's purported to have. It didn't seem like a smart decision on Nola's part either, which is not in keeping with the rest of her character as an intelligent and competent woman and an accomplished computer hacker.
Despite Ram's kidnapping Nola, they do start to connect and develop a relationship while at his hideaway and share some sexy scenes together. Ram's own mother was a pregnant teenager when she married in an arrangement that led to an unhappy marriage. It's that example that's made Ram anti-marriage up until now. It also makes him question his motivation for wanting Nola to marry him. That conflict is what drives the second half of the story. Eventually Ram makes one too many mistakes and has to put in some good grovelling to get Nola back. They get their happy ending, and I really liked the epilogue that ties things up nicely.

Book Info:

Publication: Oct 17, 2017 | Harlequin Presents | Secret Heirs of Billionaires
"This baby is mine, too, Nola. I'm not letting you out of my sight."
When Nola Mason gives in to an explosive fling with her arrogant boss, Ramsay Walker, she believes she'll never see him again. Let alone that her stormy affair will have nine-month consequences! Knowing the pain of a chaotic childhood, Nola is determined to raise her child alone…
When he discovers the truth, Ram has other ideas! There's only one way to ensure Nola sees sense—steal her away to his rain forest hideaway, and with the sultry heat fueling their incendiary passion, entice her to marry him!