Kissing Mr. Right by Michelle Major: Kendall has a life plan–to be an anchor on a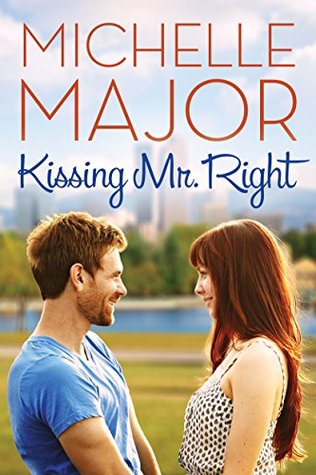 national new program–and nothing's going to stop her. Her job in Denver is supposed to be nothing more than a pit stop until she can land a job in New York. When she meets Ty, she's determined not to fall for him because it wasn't in her life plan.
Ty instantly feels a connection with her, but he feels like she's rejecting him because he's the owner of a landscape business. She doesn't know he actually has PhD until she discovers he's going to be her consultant on her big news story. So he starts off thinking she's a shallow person who only wants to be with someone with a "respectable" job.
I felt so-so about Kendall. She grew up in a poor family which made her determined to be successful, but along the way she cut herself off from her parents. It was like she was ashamed of them. She was also determined to stick to her life plan, even if it meant leaving Ty behind. She refused to give up on the idea that being in New York was the only thing that would make her happy. It takes a conversation with Owen, one of her dates on the on-air dating show, to have her finally start to question if that was actually the case.
"I've been so focused on being successful, proving wrong all the people who doubted me, who looked at me and saw nothing more than a nerd who was good with numbers. I forgot all about creating a life beyond my ambition."
His words hit home. Hard. "I can related to that."
"I sensed we were connected in that way."
I liked Ty, but at times I wondered why he kept trying so hard with Kendall. She made it clear from the beginning that she wouldn't be staying in Denver. He thought that working together on the story would change her mind about that. I also didn't understand why he didn't tell her right away about the role his father's company was playing in regards to the land involved in her story. He kept putting it off, telling her he would tell her later. Not only did it seem like it would be a conflict of interest, even if he barely bothered with his father, but it was holding back her story as well.
Kissing Mr. Right is a well-written story with a nice blend of drama and laughter. While I felt Kendall had some character flaws, it wasn't enough to take away from the overall enjoyment of the story.
Book Info:

Publication: October 1, 2015 | Montlake Romance |
Kendall Clark has always dreamed of anchoring the national news. The dedicated Denver journalist has worked hard to earn more than her fluff-piece reporting job. When she's asked to star in an on-air dating show to increase her station's ratings, she initially refuses…until she learns that participating will give her a shot at a national news-desk position in New York.
But nothing prepares Kendall for the dating show's popularity—or for the laughable dates she's forced to endure on camera. To complicate matters further, she's falling hard for Tyler Bishop, the handsome scientist hired to consult on her first big news story. Ty soon finds himself equally smitten with Kendall and sets out to prove he's her Mr. Right. But is there room in his quiet life for a woman with such a public image? And when Kendall's integrity is questioned, will she choose her dream job or her dream man?