In Last Chance Proposal by Barbara DeLeo, Cy Hathaway needs to win the custody of his son Jonty, and for that he needs a wife. Otherwise, his in-laws will keep his son and more than likely keep him away from Jonty as much as the child's mother did. He lived the first few years away from his own son, and now he wants to see his son grow up. With this is mind, Cy decides that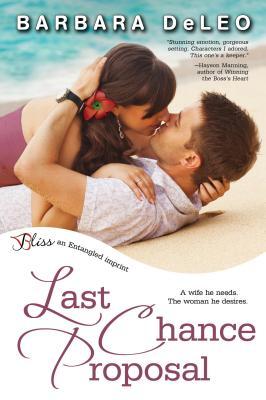 the best thing he can do is to go to his hometown in New Zealand for a short business trip and for the holidays and look up the one girl he left behind, his best friend and the only person that he can trust to help him like he helped her keep a secret for the past ten years.
Ellie has made her own life and is a successful woman. She cares for her family, and she loves her nephew Louis like her own son. After a terrible tragedy Ellie decided that she was not fit to be a mother and she would not become one. Unfortunately this tragedy also took away her best friend and her love Cy. Now when she has returned to help the town restore some of the old buildings and bring back the tourist, Cy also shows up and he asks her the one thing she is not sure that she can do.
Once Ellie meets Jonty and gets to know more about him and his father she can't help but want to help them. But she doubts every decision she makes, making things more complicated. And Cy's over-protectiveness of Jonty doesn't help matters at all.
Ellie will have a tough journey ahead to let go of past mistakes and try and make a future with a family of her own. But Cy also needs to learn that he needs to let go of his son and let him grow up on his own. But most of all they need to realize that what may be a great idea of pretend relationship can bring back the feelings that have only been buried for the past ten years.
I loved the fact that Jonty was very prominent in the story since the main issue that brought Ellie and Cy together is getting his custody. It was a little frustrating how Cy would act sometimes in his very over-protective manners that made me want to shake him and make him see reason. But Ellie also got on my nerves on how she would not face her own issues with children. As long as she was not in charge of them she was fine, but as soon as she was in charge she would start doubting herself. Yes she made a mistake as a teen, but she learned from it and she needs to move on.
If you want a heartwarming, fun and great holiday read but with a tropical New Zealand feel make sure you don't miss Last Chance Proposal by Barbara DeLeo.
Book Info:

December 9th 2013 by Entangled: Bliss
A wife he needs. The woman he desires.
Cy Hathaway needs a wife, fast, to win custody of his son, Jonty. He returns home to discover the childhood sweetheart he once left behind has become a vibrant, beautiful woman. Even though wanting to sweep her off her feet wasn't part of the plan…
For Ellie, Cy's sudden reappearance awakens a flood of memories—and resentments for the way he'd abandoned her all those years ago. But she has a life now, a career. She can't simply drop everything and get hitched, even if the sight of him still makes her heart race.
But after Ellie meets his little boy, she can't refuse. Certain she has a grip on her old feelings for Cy, she agrees to marry her first love until he gains custody. But when did helping out a friend become something with the capacity to hijack her heart?