In The Surprise Holiday Dad by Jacqueline Diamond, Adrienne Cavill loves her nephew Reggie as if he was her own child. Now that her sister has died she wants to make thing legal, but first she needs the father to sign his rights away. According to what her sister told her, Wade is a deadbeat dad. She will not let such an irresponsible dad take away her little boy.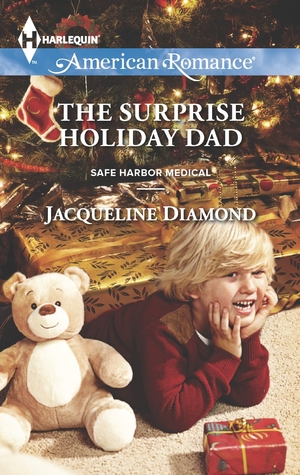 Wade Hunter has missed the first five years of his son's life thanks to the mother's lies and accusations that could have ruined his career. Now  he finally has a chance to be his son, and nothing will keep him away. But Adrienne will not make things as easy as he wants.
Adrienne thought she knew everything she needed to know, but after learning the truth about what happened five years ago when Reggie was born and seeing proof that he always tried to give something to his son, she knows that she cannot write Wade off as easily as she wanted. She has to let Reggie have a chance to be with his father, someone that she knows he has been looking for in every male figure that comes into his life.
After having basically raised Reggie herself, it's difficult sharing the responsibilities with someone else. But Adrienne knows that she has to do the best thing for her nephew and if that means letting Wade into their lives and into their home then so be it. Only when Wade cannot find a place to live and Reggie offers their home, things get a little complicated. There is an attraction that neither of them wants to act on, but living under the same roof and as a family can create an illusion of perfection when important issues have not yet been addressed.
Adrienne and Wade will not have an easy time trying to figure out their feelings while at the same time trying to keep Reggie happy without knowing the undercurrents going there. And the fact that Wade was once with the "pretty" sister, will not make Adrienne have any confidence on what his true feelings towards her are. I love that both Adrienne and Wade put Reggie's needs and well being first, but they also need to learn that shared parenting is the best way to go between two people that love each other and the child regardless of their own insecurities, they need to try before giving up.
If you want a heartwarming, sweet and entertaining read, don't miss The Surprise Holiday Dad by Jacqueline Diamond.
Book Info:

January 7th 2014 by Harlequin American Romance (Book 1483) | Safe Harbor Medical
Father, Meet Son
Safe Harbor obstetrician Adrienne Cavill couldn't love her nephew more if he were her own child. And no deadbeat dad is going to claim the little boy she practically raised.
Detective-turned-P.I. Wade Hunter has missed five years of his son's life and nothing's chasing him away this time. That includes the pretty doctor who's giving his child everything—except the father he needs.
Now that she knows the reasons why he left, how can Adrienne keep Wade from his son, who's over the moon about having his dad in his life? The rugged ex-cop's having a similar effect on her. Will Christmas bring Adrienne the family she never thought she could have?