In Legend (Real #6) by Katy Evans, So far, everyone has turned Maverick 'the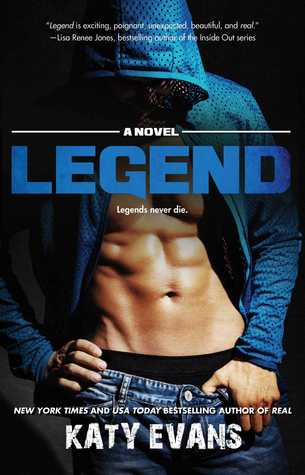 Avenger' Cage away in his bid to become a part of the Underground. Once they realize what the tattoo on his back means, who he's related to, doors get slammed in his face. It isn't until Reese Dumas enters the picture that Maverick finally finds a trainer and gets the chance to prove himself in the MMA. But dreams of dating the gorgeous little blonde occupy his mind as much as his dreams of beating Remy 'Riptide' Tate in the ring. And he's going to do his damnedest to make both dreams become a reality.
'I need to take care with this girl. Be patient with this girl. Patience is not my strong suit, but patience wins this fight, and I'm not losing, just like I'm not losing in the Underground.'
Reese is taking the summer to help out her family by being a nanny during the day and then using the rest of the time to figure out where she wants to go from here. In her attempt to also get healthier, she meets Maverick at the local gym, not realizing he's going to change her life forever. Their instant attraction overwhelms shy Reese and she can't figure out why a fierce guy like Maverick would ever find her interesting. But their bond only grows stronger with every encounter, until she knows they have a chance at something real together.
'I can feel my self-control slowly melting away and I know in this moment, I am completely at his mercy. Maverick Cage owns me. Every part of me.'
Legend honestly blew my mind. Katy Evans gave us the perfect, most fitting ending to the Real series I could have imagined. Although Remy will always be my favorite Underground fighter, Maverick is now my favorite underdog character of all time.
'I'm going to be a legend.
And a legend will never be gone, even when six feet under.
And a legend gets the girl.
A legend *wins* the girl.'
I'm not kidding. I'd give this book 6 stars if I could. It seemed like everything came full circle over the course of the story and it took a direction that I loved, with Maverick being mentored by what seemed like the most unlikely of people. The friendship that formed out of it led the way for Maverick to own the ring, little by little. And for him to move forward in his relationship with Reese, knowing he would prove himself worthy of her time, her adoration and eventually, her love. *dreamy sigh*
There was an intensity and honesty between Maverick and Reese that drew me in and made me want to root for them from the very beginning. They both had their own demons to fight so they understood each other on a basic level. But their attraction? Off the freaking charts! Reese was awed by Maverick's ability to be so fierce and powerful one minute but then turn gentle and tender when he was with her. I loved that about him as well. And best of all, I never questioned Maverick's intentions or Reese's in regard to their relationship. They were just that solid of a couple in my eyes.
The other thing I wanted to mention is that as always, Katy Evans had a wonderful group of secondary characters who were pivotal to the storyline. They were equally as well-defined and realistic as our main characters were, which made their scenes that much more interesting and enjoyable. From Maverick's rough around the edges trainer, to a certain little cutie pie Reese took care of, I loved how much more rich and full the story was because of them.
While I'm obviously sad to see the Real series come to a close, it couldn't have ended on a better note than with Legend. I think fans of the series will be overjoyed with this final installment. It's definitely going on my keeper shelf.
Book Info:

Publication: Published February 9th 2016 | by Gallery Books | Real #6
Can love really conquer all?—Book Six in Katy Evans's breakout New York Times bestselling series that began with REAL.
Maverick "The Avenger" Cage wants to rise to the top and become a legend in the ring. Though he keeps his identity well guarded, he's known on the fighting circuit as the new kid with a chip on his shoulder and a tattoo on his back that marks him as trouble. He's got a personal score to settle with the Underground's one and only Remington "Riptide" Tate.
As Mav trains, he meets a young girl—the only other new person in the town—and sparks fly. When things get heated between them, he finds out she's none other than Reese Dumas, the cousin of Remington Tate's wife. A girl who's supposed to root against him and a girl he's supposed to stay away from.
But Mav fights for the woman in his heart and the monsters in his blood. The world's eyes are on them, and the victor will go down in history as the ultimate fighting champion—the ultimate LEGEND.