Love and Liability by Katie Oliver: Holly James has a lot going on in her world. She is a struggling writer for a teen magazine with a ton of good ideas and a boss from hell. On top of that she is struggling to make rent and has a coworker for a roommate, but can she say she is an actual friend? Her band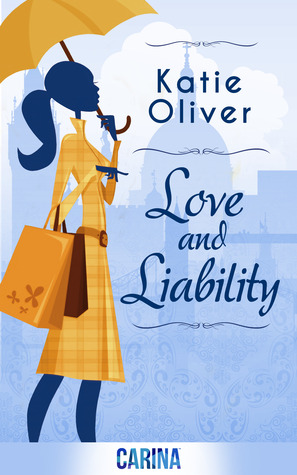 member boyfriend is from another planet and she needs to just kick him out of her life. Oh and did I mention she is one of the daughters of a successful chain store owner? So why is it she just has this feeling her life is going to change when she is sent to interview Henry?
This story is very similar to the movie Love Actually in that there are many different parts and several different stories and romances happening all at once. Some are more interconnected than others but they all make up one heck of a story.
Ms. Oliver has a great talent for showing a full picture of things that are happening. The story does tend to change perspectives without a lot of warning though so it does require a bit of extra attention, however because the stories are so interconnected they slide fairly seamlessly into one another. The vernacular took a little getting used to as well, being an American, but amazingly enough I was able to fall into the pattern of speech quickly.
Overall the book was pretty amazing telling a well rounded story and making Holly James one heck of an amazing woman!
Book Info:

Published February 3rd 2014
Sometimes your sensibilities make absolutely no sense! Holly James is looking for her big break. A young journalist for BritTEEN magazine, she is dying to write about something more meaningful than pop stars and nail varnish. So when she spots a homeless teenager outside the office, she feels compelled to tell her story. But her evil boss Sasha has other ideas… Holly is sent to interview a city solicitor she has never heard of. But Alex Barrington turns out to be the very opposite of fusty and boring and Holly's interest struggles to stay strictly professional! With Sasha sabotaging her every move, and her story about teens on the street leading her into London's dark underworld, Holly is chasing both love and success at the same time. But happy endings like that only happen in books don't they…?