Love Me Again by Jaci Burton is the book you've been waiting for. Loretta and Deacon were high school sweethearts, in love and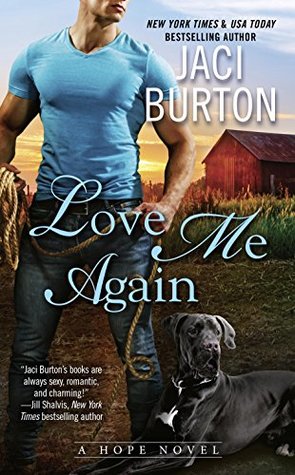 planning a future together, until Loretta ends the relationship and moves away. Now so many years later, Loretta moves back to Hope with her daughter Hazel and looking for a fresh start. Both Loretta and Deacon have changed and matured since high school, but the chemistry they had is still there.
Deacon has built a good life for himself. He's part owner of a busy and successful construction company and has a great group of tight-knit friends. He wasn't exactly thrilled when Loretta moved back and he certainly hasn't gone out of his way to be friendly. Avoiding each other isn't really an option as his latest project has Deacon working next door to Loretta's bookstore. Their interactions are awkward and stilted until the insatiably curious Hazel helps to break the ice.
He liked that answer. "I play on a summer league. Maybe you can put that arm where your mouth is."
She gaped at him. "I haven't played in years."
He shrugged. "Then maybe you're not as good as you thought."
"Screw that. I'm in. When's the next game?"
Loretta is determined to turn over a new leaf and be independent; she wants to be in charge of her life and make her own decisions. Being on friendly terms with Deacon is more than she really expected, but it's also a challenge to deny the desire for something more. Deacon wasn't looking to rekindle anything, but it's so hard to stay away from mother and daughter. If both are willing, they might just find that second chance neither thought was possible.
She rolled her eyes. "Not gonna happen."
"Oh, come on, Loretta. Where's your sense of adventure."
"Oh, I'm all about adventure. I'll tell you what. Next time you dress up as Captain America for me, I'll dress up as a cheerleader for you."
Love Me Again is sexy, sweet, and highly entertaining. Jaci Burton tackles the past and present with humor, banter, angst, and plenty of heat as former sweethearts have another chance. Ms. Burton continued to engage and entertain with a great cast of secondary characters you would love to hang out with. Fans of Jessica Lemmon, Kate Meader, and Marie Force will enjoy Love Me Again.

Book Info:

Publication: May 2nd 2017 | Jove | Hope #7
In the latest novel from the New York Times bestselling author of Don't Let Go, it's never too late for a second chance at first love…
When Loretta Simmons returns to Hope, Oklahoma, after a disastrous marriage, she's determined to remain independent for the sake of her daughter. The only thing standing in her way is Deacon Fox—the man she loved and walked away from years ago.
Since Loretta owns the bookstore right next to his current renovation project, Deacon can't escape the woman who broke his heart. Throw in her adorable little girl and one ridiculously oversized dog, and they're almost a family. Only he can't be that guy—what they had was once in a lifetime.
But love has a funny way of re-opening a door you thought was firmly closed…