Make Me by Tessa Bailey: Russell is totally committed and devoted to his best friend,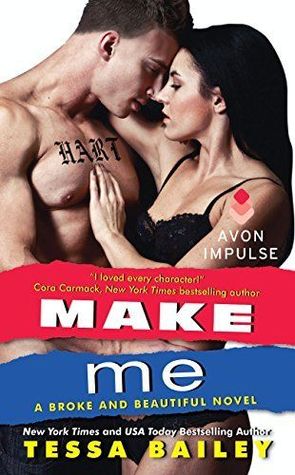 Abby. He's a protective alpha male who feels unworthy of Abby, so he's determined to love and lust for her while being her best friend. He's currently running a construction business with his brother, but he wants more for the business which means expansion.
Abby has always been the good girl who is too afraid to rock the boat or disappoint anyone, in case they disappear from her life. She's currently working herself to the bone in order to keep her family's hedge fund going. Abby is clueless to Russell's obvious feelings for her, but she begins to see him in a whole new light after he runs to her rescue. She's unsure what to do about these new feelings, but he's awoken new and persistent fantasies that she would love to bring to life.
"Or else what?" His gaze darkened in a way she'd never seen. It didn't alarm her, though. No, they were on the edge of breaking past something, and she wanted to race straight into the eye of the storm. "What are you going to do? Frown me to death?" She deliberately let her attention fall to his mouth. "Or something more interesting?"
Their relationship is a roller coaster with plenty of dramatic ups and downs. Russell feels the difference between them in their upbringing and family socioeconomic status. He's also concerned with the nature of his desire for Abby. He's put her on a pedestal as a virgin and rich girl and underestimates her. Abby has to push Russell to give in to what they both want and need.
"I'm not sorry."
"Oh, yeah?" His boots scraped on the floor as he turned, visibly pissed off. "Do you have any idea where these…things I want to do to you end? I don't. I don't know." His Adam's apple rose and fell. "How can I want to protect you and want to do them at the same time?"
Make Me is a sexy friends to lovers story with plenty of drama and misunderstandings. Make Me can be read as a standalone in the series. Tessa Bailey keeps you on the edge as you wait in anticipation of Russell and Abby finally taking that next step. Ms. Bailey provides a great set of secondary characters in their circle of friends and Russell's brother. Fans of Sarah Castille and Laura Kaye will enjoy Make Me!

Book Info:

Publication: Published August 11th 2015 | Avon Impulse | Broke and Beautiful #3
Construction worker Russell Hart has been head-over-work boots for Abby Sullivan since the moment he laid eyes on her. But he knows a classy, uptown virgin like her could never be truly happy with a rough, blue-collar guy like him. If only she'd stop treating him like her personal hero—a role he craves more than oxygen—maybe he could accept it.
With the future of her family's hedge fund on her shoulders, Abby barely has time to sleep, let alone find love. And her best friend Russell acting like a sexy, overprotective hulk any time their Super Group goes out in public definitely isn't helping her single status. But after a near-tragedy lands Russell in her bed for the night, Abby's suddenly fantasizing about what he looks like shirtless. Chest hair and tattoos—who knew?
As Russell struggles to keep Abby at a safe distance, she begins to see through his tough-talking exterior—and acknowledge her own feelings. Now she's ready to turn the friend-zone into foreplay…and make him lose control.