In Shifting Time by Kelly Bennett Seiler, it's been fifteen years since the death of her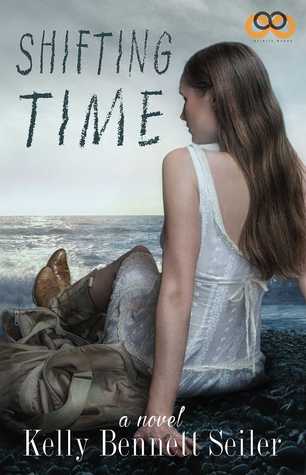 high-school sweetheart, Daniel. Yet, the pain of losing him hasn't faded one bit, for Meade Peterson. She's often wondered what life would be like if Daniel had lived. At least until she meets Tanner. A man that brings excitement to her life, the sort she hasn't experienced in a long time. But there's no way she can give Tanner a chance, not after the promise she made Daniel. Until a visit to her hometown changes her life in a way she never expected.
What a good start to Ms. Seiler's writing career this highly emotional tale was, which encompassed love, loss, a heroine experiencing an alternate existence, and finding love again. Where its fast-paced plot was set by the events at the start, and filled with plenty of surprises as the story progressed. Since Meade's life in her alternate existence was so completely different to the life she's living in the present.
The dialogue really drew me into the story, and there were moments where all I did was cry. Losing Daniel hit Meade hard, especially since she was still in her teens when he died. Yet, there were also some light-hearted moments, such as when Meade was conversing with a close friend, or a family member, or with Tanner. Those times managed to completely dissolve the tears, and made me laugh or smile. The hero was quite charming.
"What a beautiful place to take wedding photos," Meade said.
"How about when we get married, we come back here and take our pictures on these steps?"
"When we get married? Aren't you jumping the gun a bit?"
"I don't know. I've seen how you've been looking at me today. I think you're really into me."
I loved Meade and Tanner, as well as the secondary characters. Meade was independent, hard-working. Her journey was a tough one, yet one she desperately needed to experience to have any chance at a future that included love, family, happiness. It helped her realize that things happen for a reason, and when one door closes on happiness, another one opens. While Tanner, he's confident, smart, funny. I wanted more of him. He was good for Meade.
Overall, I enjoyed this book, and the sex scene that occurred was lightly-detailed, so light that it was sweet. Meade experienced something she never thought she would. Also, I loved the ending. It was Meade's chance to say goodbye, to be truly happy without feeling like she was betraying Daniel.
I would recommend Shifting Time by Kelly Bennett Seiler, if you're a fan of emotional reads, where a single life-changing moment can finally help the heroine let go of the past. Just make sure to have a box of tissues close by. You'll likely need it.
Book Info:

Publication: September 22nd, 2015 | Infinite Words |
In this entertaining and thought-provoking novel, a thirty-something woman wakes up one day to discover her long-lost love has come back to life. But is this new reality truly the answer to her heart's desires?
Despite her great life in New York City as a prestigious book editor, Meade Peterson can't shake the heartache of losing her high school sweetheart. Fifteen years after his death, she still thinks about all the things—love, family, happiness—she'll never have, now that Daniel's gone. That is, until a new man, Tanner, enters Meade's life and brings her the kind of joy she hasn't experienced in years. She's torn, though, over whether she can bear giving her heart away again. Taking time to reflect, Meade returns to her hometown of Austin for what should be a relaxing visit—but instead, she becomes the victim of a violent crime.
Upon waking from her real-life Texas nightmare, Meade finds herself in another world where she doesn't recognize anything, until she realizes the man in bed beside her isn't a stranger—it's Daniel. Meade has awakened into an alternate existence where Daniel is very much alive, and has been part of her life for the past fifteen years.
Meade can't believe her good fortune—she's finally experiencing the life she's always wanted! Or is she? As Meade quickly learns, if one thing in your life changes, nothing else may stay the same. And now she's forced to face the question: Is what she's gained worth what she's destined to lose?