In Mercy by HelenKay Dimon Becca is part of a special ops team that operates under the radar. Infiltrating an exclusive club in Washington, DC to take down business man Jarrett was pretty routine. Even if it meant becoming intimate with him. Even when Becca told herself it was just a job. Until it started to feel like much more than a job. By then it was too late and there was so much more going on than even Becca could guess at. When Jarrett was arrested and her deception revealed, the man who never has relationships or becomes close with anyone was devastated. Along with the devastation was the dark anger and thirst for revenge, even after he manages to do what he can to get himself released and 'free'.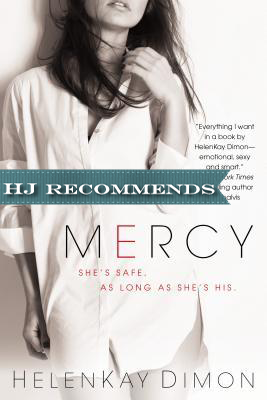 Eight months later, members of Becca's team are being killed off and she's on the run. She's used to being on the run, never really settling, but now she's hiding from someone who wants her dead. And she doesn't know why. Becca turns to the one man who will either help her or turn her over – Jarrett. Despite the betrayal he feels, Jarrett agrees to let Becca stay, but he has his conditions. She will be his. Jarrett wants to stay angry, he doesn't want to care about Becca at all. He can't help himself though. He's not quite sure he can trust her at all, but the intense chemistry between the two of them has not faded with time and he can't send her away. Jarrett wants it to be all about sex and only sex, but his feelings towards Becca are too strong.
Becca knows how to play Jarrett with her body, but she knows she can't separate the emotions from sex either. She's not used to having to deal with emotions, and now she's dealing with those plus trying to unravel the mystery of what happened to her team and why. She knows Jarrett can help her if he chooses to, but will he? Two people who never expected to be together and trying to find their way through the feelings, not to mention the threats to Becca's life will have to decide who they can trust. As the pieces slowly come together, Jarrett will do anything to keep Becca safe, even at risk to himself.
Mercy is an intense, suspenseful erotic romance that will keep you on edge, never knowing who to trust or what will happen. HelenKay Dimon manages to suck you into Becca and Jarrett's world, so you won't want to put the book down. Becca and Jarrett are both strong, complicated characters who take a bit to figure out which is part of the magic of Mercy. Jarrett and Becca are used to hiding their feelings, even I was kept wondering at times, and HelenKay lets the reader explore the feelings with the characters. There are no easy answers to their relationship or Becca's fate, more questions come up, and there are a lot of puzzle pieces to fit together. This comes slowly throughout Mercy, but not too slow. HelenKay keeps the pace up, will keep you intrigued and guessing as the mystery unravels. I love how HelenKay plays the plot out.
I liked how HelenKay revealed bits and pieces of both characters backgrounds throughout Mercy, really adding strength to their characters and bringing them to life. I really loved reading Mercy from more than one POV…not only do we read Jarrett and Becca's POV, but also Wade, a friend and employee of Jarrett. There is a strong secondary m/m relationship in Mercy that only increases the potency of the whole story. These are two people I hope to find out more about in whatever comes after Mercy.
HelenKay Dimon gives us a 5 star read with Mercy. It was smoothly written with a powerful plot, compelling and provocative characters. Mercy is very erotic, not only for Jarrett and Becca, but also the m/m relationship. These scenes are just as important to the plot as the romantic suspense and HelenKay writes these in very well so everything flows together perfectly.
I'd highly recommend Mercy to any erotic, romantic suspense reader!
Book Info:

Publication: May 6th 2014 by Berkley Trade
After she infiltrated his business and betrayed his trust, a disavowed CIA agent must seek sanctuary in the bedroom of a man who will either help her, kill her, or bring her to her knees…
Becca Ford is on her own. Eight months after she headed up a sting operation to take down millionaire club owner Jarrett Holt, the other agents in her special ops team have been eliminated under odd circumstances, and she needs a place to hide.
Jarrett is a man who prefers darkness to light. He deals in the only truly valuable currency—information—and his supper club caters to an exclusive clientele. It was an uncharacteristic moment of weakness when he let a woman into his life. But it's not luck that the criminal charges disappeared . . . as did the evidence.
When Becca returns to the club seeking his help, Jarrett doesn't want to hear her story. But he does want her body, and demands that she give it to him. He'll keep her safe—for now—but it'll be in his bed and on his terms, until he says they're done.