Miss Fix-It by Emma Hart: Kali is a sassy and feisty contractor. She's used to get the questions and odd looks when she shows up after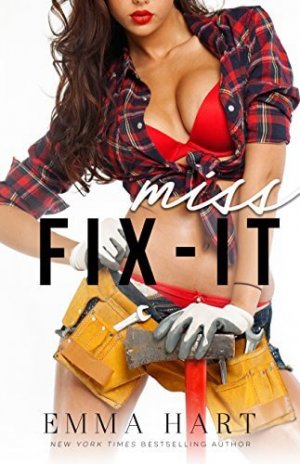 taking over her father's business. She's very capable and has proven that over and over again. But dating is another story. It's hard to find a good guy through online dating who doesn't make sexist assumptions about her work.
Brantley is ready for a new start. The sexy single dad packs up his twins and moves to a small town for a change of pace. Except he needs help with his house and his four-year-old twins. Brantley is a dedicated dad, even when his kids drive him nuts with their bickering.
Kali is always happy for a new client, but she wasn't expecting Brantley. She has a rule about getting involved with clients, and she knows from their first meeting that she's in trouble. While Kali would generally avoid any man with kids, she's stuck in his house everyday while re-doing Ellie and Eli's rooms.
"The K. Hancock I've been emailing with?"
"That's me."
"Is it common for your company to send someone who isn't the builder for the consultation?"
I took a deep breath and motioned to the toolbox at my feet. "Not at all. I am the builder."
As Kali continues to work on the bedrooms, she spends more and more time with Brantley and his kids. Despite not wanting kids, she is quite good with both of them and they enjoy hanging out with her as she works on their respective rooms. Brantley and Kali have been attracted to each other from the beginning and it's getting harder to not act on what feels so natural. Kali is treated more like a member of the family than just a handywoman.
"I do hold food hostage." I carefully considered my next words. "You can have it back if you promise not to kiss me again."
He blinked at me. Looked at the bag. Met my eyes. Shrugged. "I guess I'm skipping lunch today."
My jaw dropped. "Seriously?"
Miss Fix-It is a delightful romantic comedy. Emma Hart wrote humorous interactions between all of the characters with a slow burn romance. Ms. Hart developed entertaining characters featuring Brant's twins and Kali's mom. Fans of Cindi Madsen and Ruthie Knox will enjoy Miss Fix-It.
Book Info:
Kim| 4 Stars | Nope! | No |
Publication: Published October 31st 2017 | Emma Hart |
One handywoman.
One single dad.
One set of twins.
And the wall isn't the only thing being drilled…
I learned the hard way that being a handywoman isn't easy. The questions, the stares—the assumption I'm the proud owner of a cock and balls. Not that it matters. I've proven over and over that I'm ready for anything the judgmental asses throw at me.
Except the hot, single dad of twins who just moved to town.
Brantley Cooper gets the shock of his life when I show up on his doorstep to fix up his kids' new rooms. His son is confused why 'the pretty lady has a drill,' and his daughter has a new obsession—me.
On paper, my job is easy. Go in, do their bedrooms, and leave.
In theory, I'm spending eight hours a day with a guarded, sexy as hell guy, and I'm staying for dinner more often than I'm eating it alone, on my couch, with Friends re-runs.
I shouldn't be staying for dinner. I shouldn't be helping him out with the twins. I shouldn't be falling in love with tiny toes and dimpled cheeks.
And I most definitely should not be kissing my client.
Oops…
MISS FIX-IT is a brand-new, standalone romantic comedy from New York Times bestselling author, Emma Hart, who brought you BEING BROOKE and CATCHING CARLY.