Mistletoe Rodeo by Amanda Renee: Nola has high aspirations; she wants to become an anchor on a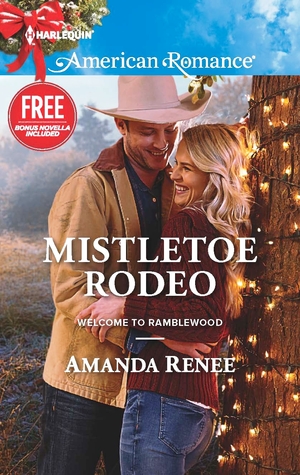 national news station. To get there, she first has to become a local anchor. The choice of the new anchor is between her and someone else. In order to win the position, she needs a juicy story. Nola starts by covering Chase's injury in Vegas, then follows him home to get the inside scoop on him and his family.
When a man starts leaving negative, hostile comments online in response to Nola's stories about Chase and his relatives, she begins to wonder why he has such hatred for a family most of the town seems to love. Sensing a story, she digs deeper into the Langtry family. The only question is whether she'll use the information she uncovers to help the Langtry's or to further her career.
Chase feels like a failure. He believes that everyone in town expected him to win the rodeo championship and that they were going to be disappointed in him. While that wasn't the case–the community was very proud of him–he can't let go the feeling that he disappointed all of them. He especially worries that his brother, Shane, will argue with him about quitting the circuit. The last thing he wants or needs is for a journalist to follow him around, but as he gets to really know Nola, the more he breaks down his walls and lets her in.
I felt for Nola. Not only was her family standoffish–she hadn't even seen her brother in eight years–but she's carrying around a heartbreaking secret and a massive load of guilt. It was easy to see how she could instantly feel a longing to belong with the Langtry's. At times though, it seemed like her need to be accepted led her to also accept being treated poorly. She was much too quick to accept an apology, considering the things that were said and done to her.
I had mixed feelings about Chase. In some aspects I liked him. He was determined to help his family, he clearly loved them, and he wanted to ensure that the project he was co-chairing with his mother (which benefited the local soup kitchen) was a success. In other aspects, I didn't like him. When Nola finally reveals her secret, he reacts poorly to it instead of trying to see where she was coming from. When Nola tries to tell the family that she had information about the man who was threatening them, they all acted like she was spying on them to get the story and he didn't stick up for her. And when she brings up the topic in an interview with his mother, instead of listening to her reasoning for doing it, he immediately assumes the worst about her. Overall his heart was in the right place and it was enough to make up for his less than stellar moments.
While this is the sixth book in the series, it's a stand alone. Chase's brothers are featured in some of the other books, but the way they're written into this one doesn't make you feel like you're missing anything if you haven't read the prior books.
In Mistletoe Rodeo, Amanda Renee has written a heartfelt story about acceptance, forgiveness, discovering oneself, and finding out where you finally belong.

Book Info:

Publication: October 1, 2015 | Harlequin American | Welcome to Ramblewood #6
His entire town was counting on Chase Langtry to win the championship title. Instead, the injured bull rider is slinking back to the family ranch. But how can he stay out of the spotlight with relentless reporter Nola West following him home from Vegas? His humiliating loss just can't be her next story!
Nola's attraction to the youngest son of Ramblewood's First Family is shaking her hard-won confidence. And it looks like the only scoop she'll get is covering the Mistletoe Rodeo charity event. She's never been a big fan of the holiday. Until Chase vows to show her a Christmas she'll never forget.