Mr. (Not Quite) Perfect by Jessica Hart: Max is still a little stunned by the abrupt way his ex dumped him. They were perfect for each other, but apparently she needed to be swept off her feet. She didn't cheat on him, but definitely got 'swept away' from their relationship. So he retreats to his sisters place to recoup. She's away on business, so he'll be bunking in with their long-time friend, Allegra.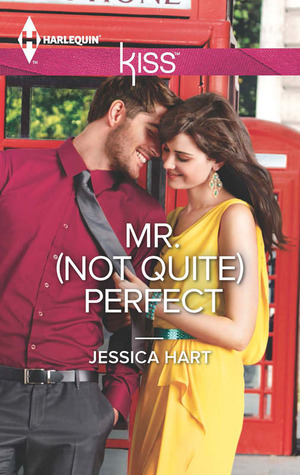 Glitz magazine has finally given Allegra an assignment she can make her own. After a round of 'why can't we find the perfect guy', her boss is swayed by her pitch to make an ordinary joe into the perfect man. Now she just needs to find a guy to be her subject. When Max lands (literally) on her doorstep, she realizes he is ready-made for this job. He's not what she'd call "hunky", but there's potential there. As long as he'll agree to let them give him a makeover and tutor him in the ways of dating, maybe he can get his ex back.
Max doesn't want to agree to be Allegra's guinea pig, but since she's helping him to get an assignment he's been aiming for, he can hardly say no. In fact, she doesn't give him any choice whatsoever. It doesn't hurt that he'll be fake-dating a famous model for the story – although she's not really the kind of woman he'd choose to date under normal circumstances.
As long as they've known each other, Allegra has never thought of Max as anything other than a brother type, but now that he's spruced up a bit, she's seeing an entirely different man – and she's surprised at how much she likes the new him. On the other hand, Max already has a preconceived notion about who Allegra is, but under the messiness and chaotic wardrobe, there's a surprisingly deep woman. When their curiosity leads to a steamy night they vow to forget, their lives become more complicated than they've ever imagined.
I was not sure what to think when I started reading this book. Usually, when a guy is kinda geeky, the woman is already slightly attracted to him, but "wakes up" once he's seen in a new light. However, Allegra *truly* doesn't see Max in any kind of romantic or sexual way in the beginning. She even thinks that he's not really attractive, and quite stuffy.
Max doesn't feel much for her either, especially since he's constantly frustrated by her superficiality and unkempt living habits. Her issues stem from an inner conflict, whereas his are mostly outward changes. Max's sister, Libby – is only mentioned briefly in the book. She's Allegra's real roommate, and I was expecting her to make an appearance at some point, but she doesn't. The twist in Allegra's backstory was truly out of left field, but things click into place when we find out her mother's secret.
I really despised Allegra's mother, in fact, even after things get explained, she's still not exactly warm and cuddly. It was nice that the reveal allowed Allegra to decide what to do with her life, and that she should live it for herself, not to impress anybody else.
I loved how Max came back to Allegra – so romantic. Totally swoon-worthy. I think you'll enjoy it too.
Book Info:

Published (January 1, 2014) by Harlequin KISS
What do women really want?
Journalist Allegra Fielding has a problem. She's pitched a story to her boss–how to transform a not-so-perfect man into Prince Charming–and now she has to deliver! But where is she going to find a man willing to take part in a makeover?Time to blackmail her roommate, Max….
But Allegra's cunning plan backfires spectacularly when Max refuses to be "perfected"! He's a guy who knows what he likes, and he's going to enjoy proving to Allegra that there's nothing hotter than a man who's a little rough around the edges….