Reforming the Playboy (Passion Creek #1) by Inara Scott: Kira Butler and Max Estin met in college and over the course of a year, fell in love. Due to a family emergency, Kira left school and broke up with Max via a note and an email message. At the time, they were both aspiring artists. Five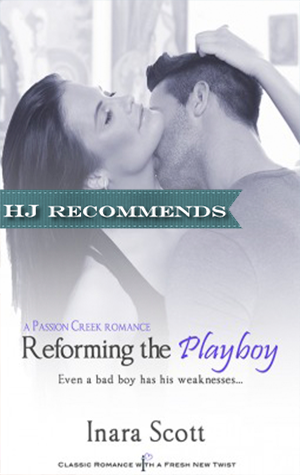 years later, Kira happily owns a pottery shop in her hometown of Passion Creek, Colorado, and Max has become an internationally recognized artist, making tons of money and living the lifestyle it affords him.
Due to a crazy request in Kira's late aunt's will, Max is forced to come to Passion Creek and take ownership of some nude drawings he sketched of Kira while they were in college. Emotions and memories come to life when they meet again. Their passion for each other still exists, even though Max plans on making Kira pay for all the hurt and anguish he experienced at the time of their breakup.
Max has artist's block, and he has been unable to create anything for almost a year. Spending time with Kira somehow unleashes his creativity and he begins sketching again. As they spend time together, they truly get to know each others wants, needs and desires. Discussing the past is truly poignant as their truths are slowly unraveled and their reality is exposed. Kira and Max finally discover themselves and how their perceptions of one another are somewhat distorted.
After reading this emotional and joyful novel from cover to cover in less than a day, I had to take a deep breath and dry my tears. Ms. Scott pens a wonderful reunion romance with well conceived honestly, angst and love. I felt an immediate connection to both Kira and Max as individuals and then as a couple. Their chemistry was emotionally draining in addition to being sexy and hot. I enjoyed all the characters, especially Taney Lofter, Passion Creek's busybody and beloved store keeper. Her comical banter is full of energy and truthfulness. Don't pass on the chance to read this book.
Book Info:

Publisher: Entangled: Indulgence (January 13, 2014) | Passion Creek #1
Five years ago, she left without a word…
Internationally-renowned artist Max Estin is as well known for his million dollar commissions as he is his partying and clubbing. But Max is hiding a secret—for almost a year he's been completely blocked. Unable to paint. And to unlock his art, and save his career, he's going to need the one woman he never wanted to see again.
Now, he's determined to make her pay…
Kira Estin never told Max exactly why she left, or what secrets forced her to return home to Passion Creek so abruptly. So when a chance reunion turns to seduction, Kira is more than a little suspicious. She knows better than to trust Max, but can't fight the fire that he lights in her body—or her heart. But when everyone is hiding a secret, can even the hottest passion survive?