In Not Quite Over You (Happily Inc. #4) by Susan Mallery, Silver Tesdal had a plan to expand her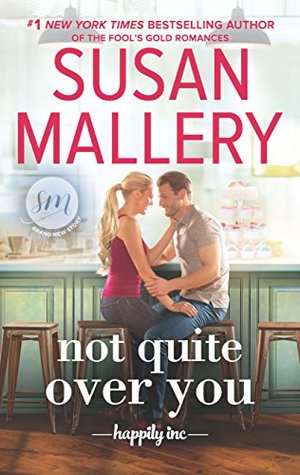 business, a traveling bar called AlcoHaul, but thanks to personal politics at the local bank, her loan was denied. Knowing she can't miss the opportunity and turn down two killer Airstream trailers, she's shocked when her former high school sweetheart, Drew Lovato, offers to become a partner in her growing business. Working at his family's bank gives him the capital, but Silver doesn't want to let her emotions get involved in business. Because try as she might, she can never forget what she and Drew had together in their teens. Or their huge secret no one knows about. And it quickly becomes clear that with the more time they spend together, the more Silver realizes how much she still cares for Drew. Which has the potential to not only hurt her business should they go separate ways, but break her heart into a million pieces.
'Drew was her greatest weakness. He always had been. For a long time she'd told herself she was cured, but apparently that was simply because she hadn't been around him.'
Everyone has heard of "the one who got away". And in Drew's case, that would be sexy Silver. He didn't give it much thought when they broke up right before he went to college, with so many things happening all at once in his life. But now over a decade later, he wonders what could have been if he and Silver had stayed together. So when the chance comes up to not only fund the purchase and renovation of two trailers to expand her business, but to also work side by side with her, Drew gives it his best shot to get Silver on board with his idea. The only thing he hadn't bargained for was how deeply he would still care for her. Or how much the shared secret from their past would continue to affect him to this day. As he tries to sort through his emotions–not something he's comfortable with, if he's being honest–Drew knows he's looking at the type of relationship that happens once in a lifetime. Now if he can just convince Silver of the same, he'll have it made.
'Sometimes the truth just walked out in front of a man and smiled up at him. He was in love with Silver.'
Cue the dramatics, the laughter, the angst, and the sigh-worthy romance. Not Quite Over You brought that to the table and oh so much more as we explored Silver and Drew's second chance romance that was absolutely full of surprises.
'There was something about that man and her body. They got along really well.'
I'm having such a terrific time with Susan Mallery's Happily Inc series. And I was (not so patiently) biding my time until we got to Silver's book, because–wow!–there was a whole lot she'd been keeping to herself about her past with Drew. Much of which I can't discuss here, unfortunately. However, I can say that their second chance at romance was everything I hoped it would be, complete with declarations of love, a grand gesture, a genuine connection, and even plenty of family drama. Oh, and we had a subplot with Jasper and Wynn as well! All the makings for an interesting story, right?
Written with Mallery's attention to detail and her expertise at creating realistic personal relationships between her characters, this book had me from page one. I already liked Drew and Silver, having read the previous three installments in the series, but I think readers new to the series could jump in here with no problem, as well. I will admit that our lovebirds were very, very stubborn in admitting their true feelings and I kind of had a few moments where I wanted to shake some sense into them. (lol) But the stubbornness felt authentic, given their predicament. Silver and Drew surprised me with their past, with how in love they truly were as high school sweethearts and what happened in the aftermath of their breakup after graduating. But, again, I thought Mallery painted it all with a realistic touch, which made this reunion so much sweeter.
On top of learning how truly strong and kickass Silver was and how wonderful a guy Drew was, there was a lot going on with the other couples and locals in Happily Inc. From a casual relationship ready to implode to an engagement party with royalty making an appearance–and even a bunch of funny moments between Drew and a pet rabbit he was babysitting (bunnysitting?)–there was plenty to hold a reader's attention this time around.
Perfectly showcasing how Susan Mallery can convey depth of emotion while still adding in lighthearted elements, Not Quite Over You was a complete charmer of a romance. I think readers will have a fantastic time with Silver and Drew's lovely reunion.

Book Info:

Publication:  October 23rd 2018 | HQN Books | Happily Inc. #4
Susan Mallery, #1 New York Times bestselling author of the Fool's Gold romances, proves there's nowhere better than Happily Inc to rekindle first love.
Silver Tesdal has a head for business and a mouth made for kissing, and banker Drew Lovato has his eye on both. But ever since he was dumb enough to let her go, she's kept him at a distance. When the bank turns her down for a loan, Drew sees a double opportunity—he can finance her brilliant, unique idea to rock Happily Inc's wedding industry and win back her trust.
Despite her reputation, Silver's not as tough as she seems. Losing Drew nearly destroyed her. Still, his kisses are as tempting as his offer to invest in her business. If she can't quite get over him, maybe she should get under him and knock him out of her system once and for all.
But her best laid plans begin to unravel as Silver finds herself falling even harder than when they were high school sweethearts. Which means that she'll have to come clean about the secret she's been hiding from him for years—and risk losing him forever.