In One for the Rogue (The Bachelor Lords of London #3) by Charis Michaels,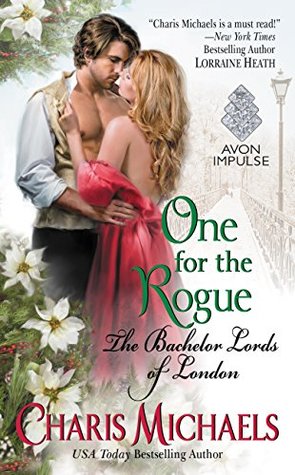 Beauregard Courtland has spent his days first in the Royal Navy and then traveling the world at his leisure. But now with the truth of his and his brother Bryson's lineage coming out, awarding him the title of Viscount, Beau is even more determined not to bow to society's rules. His past has shown him only the worst of the aristocracy. Then a beautiful young widow explains that she is to help him become all that is proper and show him how a viscount should behave. Although his thoughts about the Duchess are anything but proper from their first meeting. More time spent with her brings about changes in Beau's outlook on love and marriage. But it will take a miracle to change his mind about the viscountcy.
"My father is dead. My husband is dead. Neither of them provided for me before they left this earth, so I cannot pay Mr. Courtland for this kindness in advance. But I can offer work in trade. You, my lord, are that work, whether either of us likes it or not."
Lady Emmaline Crumbley was basically raised from birth to become the wife of a titled (elderly) gentleman. But never did she expect to become a dowager duchess in such a short time or to be left with no money and no prospects for herself or her beloved brother Teddy. Her only hope is to allow Bryson and Elisabeth Courtland assist her in finding passage to America and start anew there. To pay them back, Emmaline will teach the new Viscount of Rainsleigh how to act like a member of the peerage. But it is the lessons Beau teaches her on the fine art of seduction that consumes her every thought.
Emmaline breathed in deeply and then let it out, a resigned sigh. She looked up. "But I didn't ask you for a passionate affair," she said softly. "I…I only wanted a kiss."
He squeezed his eyes shut and drew her to him, kissing the top of her head. "Oh, Duchess. It's never only a kiss. Not with you, love. Not with you."
One for the Rogue was an enjoyable Regency romance that definitely kept this reader on her toes. Just when I thought I understood where the story was leading and what the characters were going to do, author Charis Michaels switched things up with some unpredictable but entertaining twists.
'He had no wish to seduce her–no, that was wildly inaccurate; he had every wish to seduce her, but he could not, would not touch her.'
I'll start off saying that I haven't read the previous two books in this series but that didn't take away from Beau and Emmaline's story at all. I think if you want to get a true sense of where the dynamics between Beau and his brother Bryson comes from then reading book two would help. But otherwise, there was enough background information given in this installment to fill in the blanks nicely.
This was one of those stories where I immediately liked both the hero and the heroine. Which doesn't always happen. And I thought they had a strong sense of attraction immediately, although it was unwanted–which made it fun and it also seemed realistic. Beau and Emmaline were both strong characters so it made their scenes together lively, to say the least. I loved that he was quite reluctant to be seen as a hero, even though he did such good for so many people. Beau certainly had his reasons why he wanted to live a fairly simple life and not enter into the aristocracy as the Viscount of Rainsleigh. I thought his struggles and his fears felt truly genuine and although I was not impressed with a couple of his choices, I could understand where he was coming from at least.
Emmaline turned out to be a wonderful heroine. She had been through quite a lot in her young life and in spite of everything was determined to make sure her mentally challenged brother Teddy Holt and herself would be taken care of, one way or another. I absolutely adored Teddy and how Emmaline cherished him. Actually, Beau did as well, which was fantastic. They both had kind, giving hearts and were champions of those who couldn't speak up for themselves as well as being protective of loved ones. But it was the scenes with Emmaline and Beau alone together, trying to ignore their chemistry, where the pages really sizzled. Michaels did a great job building the tension between these two lovebirds until they could ignore it no longer.
A lot of fun was to be had reading One for the Rogue. I think historical romance fans looking for passionate protagonists, a fairly unique plot, and even some memorable secondary characters (I loved Lady Frinfrock and Jocelyn Breedlowe) will find this particular story quite charming.

Book Info:
Publication: Published December 6th 2016 | 

Avon Impulse | The Bachelor Lords of London #3
Beauregard "Beau" Courtland has no use for the whims of society and even less for aristocratic titles. As a younger son, he travels the world in search of adventure with no plans to settle down. Even when the title of Viscount Rainsleigh is suddenly forced upon him, he will not bend to duty or decorum. Not until an alluring young woman appears on the deck of his houseboat, determined to teach him propriety in all things and tempting him with every forbidden touch…
Lady Emmaline Crumbley has had a wretched year. Her elderly husband dropped dead without naming her in his will and she's been relegated to the life of a dowager duchess at the age of 23. She has no wish to instruct a renegade viscount in respectability, but desperate to escape her greedy stepson, Beau's family makes her an offer she cannot refuse: teach the new lord to behave like a gentleman, and they'll help her earn the new, self-sufficient life of her dreams. Emmaline agrees, only to discover that instructing the viscount is one thing, but resisting him is quite another. How can she teach manners to the rakish nobleman if he is determined to show her the thrill of scandal instead?