One Night by Aleatha Romig: Amanda has dedicated her life to being the best mom she can after tragically losing her husband to an IED.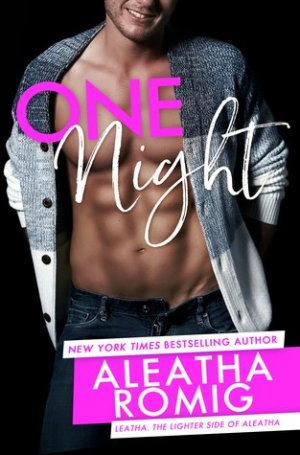 She's lost the fun, adventurous part of her personality with the death of her husband. She has a great support system in her parents, brother, and best friend.
Malcom has started a new chapter in his life. He's no longer the famous pro hockey player on and off the ice. He's started a new career that he's really passionate about and enjoying living in a new city. And the changes in his life also extend to giving up the string of groupies and one night stands.
The last thing that Amanda wants is go on a blind date, but she's forced to relent after her best friend and mom gang up on her. Turns out getting stood up isn't such a bad thing when the oh so sexy Malcolm is there. They immediately hit it off and have an amazing night.
"My first blind date. But, well, my friend warned me that the guy has issues."
"Ew." My nose scrunches. "That's even worse. You didn't get the nice guy speech?"
"I think she was taking it easy on me. You know, easing me in slowly."
Malcolm is quite clear that he wants more and he makes his interest known. Amanda is cautious about doing anything that takes her away from her son, but Malcolm makes her feel like a woman again. He's charming, passionate, romantic, and most importantly, patient. They have a great connection and he helps bring out a more fun loving side of herself.
Her pretty eyes narrow. "You wouldn't dare."
I lift my brows. "Something you might want to understand about me: I love a challenge. And what you just said feels like a gauntlet being thrown down, a proverbial line in the sand-Florida sand in this case."
One Night is fun, sweet, sexy, and endearing. Aleatha Romig entertains with banter, fun plot twists, strong friendships, and an adorable little guy in Amanda's son. Ms. Romig created a fun cast of characters in Amanda's friends and family. Fans of Sawyer Bennett and Lorelei James will enjoy One Night.
Book Info:

Publication: Published September 5th 2017 | Romig Works LLC | Lighter Ones
A sweet, fun, and sexy stand-alone romance from New York Times bestselling author Aleatha Romig.
One night to remember.
Is that too much to desire?
One night for fun, passion, and a chance to remember what it's like to be woman.
I'm not looking for love.
There's a man in my life who loves me with all his heart. He has beautiful blue eyes, is three foot tall, and calls me mommy.
He's my whole world and I'm his. Fate took away his daddy.
What would happen if I allowed fate another chance, one night?
One night to help a friend.
Why did I agree to this?
Blind dates are disasters. If I weren't helping the friend of a friend, I wouldn't go.
I'm not looking for romance, love or even a one night stand.
After all, the man my friend knew is gone. I'm no longer the hockey star known for his "pep" on the ice and in the sack. I have a new life, and a new career—a new passion. I'm not looking for more.
When the blind date is a bust, could fate change everything?
A night doesn't end with a kiss. It begins with one.
Be ready to laugh, cry, and fall head over heels as you let Leatha, the lighter side of Aleatha, take you away with this sweet, sexy, new, stand-alone romance, ONE NIGHT, the perfect reading to keep you warm…hot…steamy…on a cool night.