In Outback Blaze (Bunyip Bay #2) by Rachael Johns, Ruby Jones noticed her attraction to Constable Drew Noble immediately. But given her history with men, she's been all but ignoring those desires, focusing instead on her parent's business and her beloved horses. Ruby is soon forced to spend more time near Drew after a fire at her family's store in town. Now all of Bunyip Bay is desperately searching for the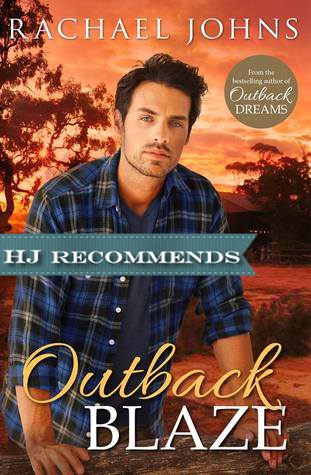 culprit and unfortunately people are pointing fingers regardless of evidence. Ruby wants to build a life for herself in the small town but the situation is making it difficult. Also proving difficult is keeping her emotions under control when it comes to hunky Drew.
'Her family unit was strong and no matter what the fickle people in this town thought or said they would get through this because they loved each other.'
Drew Noble still isn't quite used to such a small town after coming from a larger city in England. Everyone knowing and helping each other out is certainly a positive thing, but idle gossip and nosiness, not so much. The latter becomes evident when he tries to sort out the specifics of the fire at the Ag Store. He trusts his instincts and they tell him something isn't quite right. Drew empathizes with Ruby and her family in their struggle, but he can't shake the chemistry that sizzles between himself and Ruby. Even though he needs to remain impartial. Should he give in to his feelings just this once? Or will it only cause more problems?
"Ruby, if I told you exactly what I wanted to do it'd ruin the surprise, but bottom line, I want to have hot, passionate, mindblowing, off-the-radar sex with you."
Outback Blaze is a charming and suspenseful romance set in beautiful Bunyip Bay, Australia, where the beaches are to die for and the people are unforgettable.
It was nice to be back in Bunyip Bay. I really enjoyed book one, Outback Dreams, and couldn't wait this time to learn more about Ruby's past and about enigmatic Constable Drew. I thought the writing style was straight-forward and easy to read again while maintaining interesting dialogue and deep emotional connections. And I loved the addition of suspense here. It kept the story exciting while I was trying to figure out who the culprit was. I had an inkling of who it might be, but author Rachael Johns did a great job of making me rethink everything as the story progressed.
My heart went out to both Ruby and Drew as we learned more about what they have been through in the past. Obviously I can't say what happened to either of them without giving the plot away, but unfortunately more troubling times were still looming for Ruby. She and her family endure a lot over the course of this story, but I thought she handled things remarkably well. Having a handsome policeman to help her with the situation definitely didn't hurt, either. I thought the chemistry between Drew and Ruby seemed very real and happened in a fairly natural progression. I was happy to see that she was every bit as sweet and caring as she was made out to be in book one. And once we got Drew's story, it's evident how much of a stand up (and sexy!) guy he truly was.
Outback Blaze has a little bit of something for everyone: romance, a whodunnit, quirky townspeople, and a lot of smoldering attraction between the main characters. Hopefully you enjoy this one as much as I did.
Book Info:

Published May 1st 2014 by Harlequin MIRA
Ruby wasn't looking for love, Drew wasn't looking to stay…until they found each other. Can their fling survive the darkness of Ruby's past and Drew's desire to move on?
Ruby Jones was always an optimist, but the trauma of her past had made her wary. So when she flees to the small rural community of Bunyip Bay to start afresh, she has her sights firmly set on establishing her horse-riding business and rebuilding her life. The last thing Ruby wants is a romance. In fact, after all she has been through, she can't imagine she will ever believe in love again.
Police officer Drew Noble has no intention of staying in Bunyip Bay — he is just an outsider seeking temporary refuge. But as the charm of the town sways him, Drew finds himself increasingly drawn to the community and its inhabitants, as well as another newcomer, the lovely Ruby Jones.
When Drew investigates a suspicious fire at Ruby's parents' business, he finds himself feeling strangely protective of the girl with the flowers in her hair. As the details of Ruby's past emerge and she comes once more under threat, Drew realises he will do all in his power to save her.
Soon these outsiders discover they have both lost their hearts — not only to the town but to each other.