Outrageously Yours by Susanna Carr: His little sister's quiet best friend, a party girl? Her best friend's brother a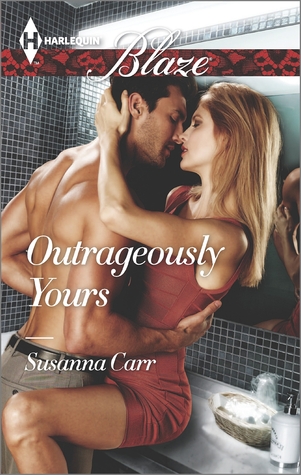 reality? What happens when two worlds collide to create an image?
Claire Miller didn't have faith in herself. When you go through most of your childhood struggling and without people to back you up I'm not sure anyone would have faith in themselves. So when a big time player in the PR world gives you an assignment and says if you complete it you might get a job with him, you jump, right? So what if Claire, the wallflower, has just been told she needs to become Claire the party girl.
Jason Strong was the golden boy. He never failed at getting what he wanted, except that one time that he hid and no one knew about. He was currently running a fantastic operation and expanding business like crazy. Now he did have help from his little sister's best friend though. Together they were unstoppable.
When Claire comes to Jason to help her transform into the party girl all bets are off. How far will these two go to make this transformation happen? Will it end in a week? Or will they find out this fake transformation is real?
Wow. This is almost a Cinderella story but with a few more bumps and a big dose of reality. The best friend's brother trope is one that has been done a number of times but Ms. Carr has honestly stepped out of the comfort zone and made this one unique. The characters are great, the dialogue is real and the pain/reality that happens is something "special." It's interesting to think about how we portray ourselves and how we see others which is a point this novel really sheds some light on. Check out Outrageously Yours by Susanna Carr and you won't be disappointed.
Book Info:

Published April 21st 2015 by Harlequin Blaze Series #846
He's just the guy to ruin her reputation…
With a high-profile job opportunity on the line, Claire Miller must go from squeaky-clean wallflower to wild party girl in just one week. To do that, she needs the help of Jason Strong, her favorite client—and secret crush. He's sexy, a notorious bachelor and just the guy to destroy this good girl's rep.
Only Claire didn't count on Jason's spontaneous streak, or that his brand of improvising could turn their strictly professional relationship into something intensely personal—and incredibly hot. Now she has to trust him with her future, her body and her deepest secrets. And hope that by week's end, she'll have him out of her system without breaking her heart…