Broken (Lost #1) by Cynthia Eden has a chilling start that sucked me in as much as it terrified me! Cynthia sets the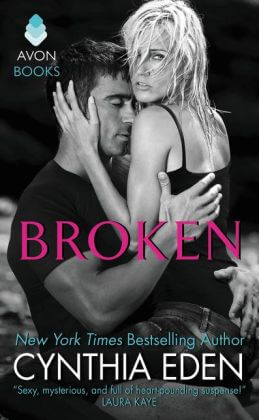 pace well from the first page, and I soon found myself deep in Eve and Gabe's lives in Broken.
Eve has lost who she is after a horrific event. She has no recollection of who she was or where she came from. She has scars and nightmares, and can't move on without finding out the unknown. Eve turns to LOST, and agency that finds missing people, and Gabe, a former SEAL who founded LOST after his own tragedy. He is her last hope. Gabe is entranced by Eve on first sight…but he's not sure if he can help her or if he even believes her story. But whether she is who she thinks she might be or not, Eve just wants to find out the truth about herself. With evidence mounting, Gabe and his team take on the task of finding Eve.
They go back to where it all began to face the past and find answers. Eve knows the risk she faces from the unknown, but it's a risk she has to take. Her and Gabe are becoming closer, and Gabe will do what it takes to protect Eve and uncover the past. As things between Eve and Gabe heat up to burning, so does the danger…because someone is still after Eve and will do whatever it takes to get her…
I loved this fast paced, thrilling romantic suspense by Cynthia Eden! She held my interest through out, kept me guessing, kept my pulse pounding, then twisted the plot admirably just when I thought I had it all figured out. Eve and Gabe are fantastic main characters who I really admired. Eve is strong and brave, facing what she doesn't know head on…because she needs to know no matter what. Gabe is cautious, protective, and hot! I really liked that despite how attracted he was to Eve he didn't throw caution to the winds and immediately believe everything she said. Gabe struggles a bit to balance his personal and professional feelings and this was very realistic. I felt like this worked really well for both the mysterious plot and their relationship. The characters and the plot developed well, at a good pace.
I couldn't wait to see how things turned out for Eve and Gabe…if they could find out the truth before it destroyed them, and if they could move on and be together.
Cynthia blends in a great mix of secondary characters, both good and bad who all added dimension and relevancy to the plot. I hope to see more of some of these characters in future LOST books.
I also really liked the setting Cynthia used on the island…she brings it to life and made me feel the sand, the water, smell the salt, and hear the crash of surf.
Cynthia strikes a good balance between the sizzling relationship between Eve and Gabe with the suspenseful plot in Broken. I'd highly recommend Broken by Cynthia Eden to any romantic suspense reader who likes steam and thrills!
Book Info:

Published March 31st 2015 by Avon |  (Lost #1)
The first novel in New York Times bestselling author Cynthia Eden's sizzling LOST series introduces the Last Option Search Team, an elite unit that must protect the only surviving victim of a serial killer.
Ex-SEAL and LOST founder Gabe Spencer is accustomed to the unusual in his job. But when knockout Eve Gray steps into his office, he's rattled. For the mysterious woman is a dead ringer for the heiress thought to be the latest prey of the serial killer who goes by the name Lady Killer.
When Eve awoke in an Atlanta hospital, her past was a blank slate. Then she recognized her own face in the newspaper and vowed to learn the truth. Determined to confront the nightmares hidden in her mind, she never expects to find a partner in Gabe.
As Gabe and Eve work together, their explosive attraction becomes irresistible. Gabe knows that his desire for Eve is growing too strong, bordering on a dangerous obsession, but nothing pulls him away from her. And when another Eve lookalike disappears, Gabe vows to protect Eve at all costs. While Eve may have forgotten the killer in her past, it's clear he hasn't forgotten her.