Playing for Keeps by Deborah Fletcher Mello Mello is book two in the Sultry Southern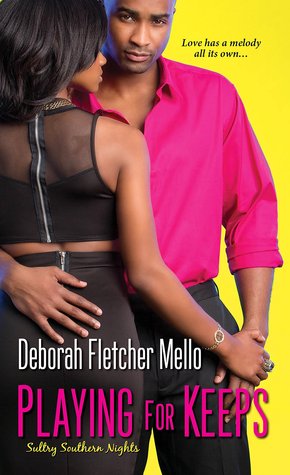 Nights Series, but can be read as a standalone.
Malcolm is a single father with twin girls. He also co-owns one of the hottest Jazz night clubs, is very confident, and radiates success. He's also a recovering alcoholic with a troubled ex-wife.
"I come with luggage but I assure you it's all unpacked and put away."
Malcolm is upfront with Cilla from the beginning and even though he has a past, the connection they have is too strong to walk away from.
Cilla is independent, smart, and doesn't back away from a challenge. When the going gets tough and it will, Cilla is right there with Malcolm lending her support.
Malcolm and Cilla are amazing characters. I adored each of them for different reasons, but what I loved best about them, was that they felt real to me. The relationship between Malcolm and Cilla felt very intimate and very genuine. If two people ever needed to be together, it was these two.
The story is well-written and very detailed. I could close my eyes and picture each scene playing out in my head thanks to the author's descriptions. I never once wanted to put this book down. Readers who want the feel of an authentic romance, with characters who show their feelings instead of tell, should pick up Playing for Keeps by Deborah Fletcher Mello.

Book Info:

Publication: October 27th 2015 | Dafina | Sultry Southern Nights #2
As an accomplished architect, single dad of teenage twin girls, and co-owner of The Playground, Raleigh's hottest jazz and blues club, it's an understatement to say Malcolm Cobb has his hands full. Add to that an ex-wife who knows how to bring the drama, it's no surprise he has little time or inclination for a personal life. But when he spots stunning, voluptuous Cilla Jameson, he's suddenly considering rearranging his schedule and setting aside his concerns. . .
Independent and successful, Cilla would love to be in love. But when it comes to men, she has a lengthy list of requirements. And "no children" is at the top. Yet she can't help being intrigued by Malcolm. He's handsome, fascinating, respectful–and up for a challenge. But is Cilla? After all, the man has baggage–and it is fully packed. Can she handle the ex who's determined to keep him single? Or the twins who are not quite the angels Malcolm thinks? She'll have to decide, if she wants to play for keeps.