In Power Play (Billionaire's Club: New Orleans #2) by Mallery Malone, Raphael Jerroult made a name for himself in the world of MMA. Now that an injury has taken him out of the game, he's entered the business world in the Big Easy. His previous foray into business, taking over the family company right out of college after his father's death, was not a good fit so he took off to begin his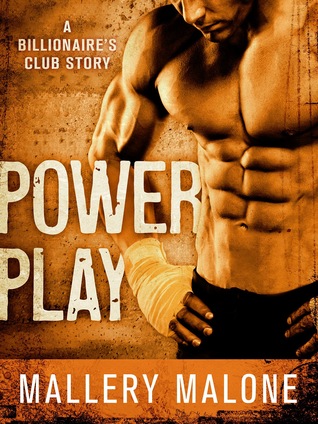 Muay Thai training overseas. During that time he fell out of contact with his best friend Macy Lovelace who, if he would have been honest with himself, he was falling in love with. Now it's eight years later and Raphael unexpectedly sees her at an event. Macy's anger about their past baffles him so he sets out to make amends and hopefully convince her to give them another chance.
"No matter what you say, no matter what lies you try to tell me or tell yourself, your body will always tell me the truth. For tonight at least, your body and your pleasure belong to me."
They say you never forget your first love and that is very true for Macy Lovelace. Her childhood and young adult years will forever be tied to Raphael. Too bad he broke her heart when he pushed her to follow her dreams by going to pastry school in Paris, only to cut off all communication shortly after her arrival. Macy has been carrying around that devastation for years when she finally comes face to face with Raphael again in New Orleans. The sparks between them have only grown stronger and she longs to just give in and accept him back into her heart. But once he hears about the secret she's been hiding since Paris, he may never forgive her.
"Greedy, aren't you?"
"When it comes to you? Absolutely."
The impact of Raphael shot straight to her core. He was walking, talking sex on a stick and her hormones stood up and shouted hallelujah.
Power Play was a hot and steamy second chance romance that was all about past miscommunication and missed opportunities.
I've said it before and I'll say it again: I do SO love second chance romances. It's very satisfying to see people who mean a lot to each other finally get their chance to make things right. In this novella, Raphael and Macy were reunited after almost a decade apart. A lot had changed in their lives, some for the better, some not so much, but I loved that the one thing that never changed was their strong chemistry. It just couldn't be avoided. I thought it worked very well with this story being written in both protagonists POVs so we got both sides of their past as they were getting to know each other all over again.
This short story is easily read as a standalone where bits of the previous story, Knock Out, is explained so we know who the key characters are. Of course, as we're dealing with guys who are not only former MMA stars here, but also billionaires, you know they are alpha men through and through. Holy. Hotness. The love scenes between Raphael and Macy were intense, sweet, and uber sexy. They had a lot of years to make up for, and make up they did…whew! I think my favorite part of their time together was when Raphael brought Macy to his home and they took a trip down memory lane. That scene was so stinkin' sweet it made me all teary eyed. *happy sigh*
If you love second chance romances that are a quick read, this one is for you. Tender hearted tough guy Raphael worked his way into my heart, as did super talented and equally strong Macy.
Book Info:

Published August 5th 2014 by St. Martin's Griffin | (Billionaire's Club: New Orleans #2)
Raphael Jerroult a.k.a. the Crescent City Casanova, has fought his whole life—both in and out of the boxing ring. Watching his father suffer for years after his mother's death, he's resolved to envelop himself in a shell made of money, MMA matches, and a different woman every day. But when an old flame, and the only woman he's ever truly let in, comes back in his life, Raphael can't stop being distracted by the red-headed beauty with the curves that go on for days…
Macy Lovelace has no desire to start things up again with Raphael. Memories of the sweetest torture she's ever known can't make her forget that he's not cut out for long-term love. But Macy's the only girl who Raphael ever let in, the only girl who really knows his sexy, dangerous side. And with the Crescent City Casanova, the only way to keep up, is to be tied down…