Prima Donna by Laura Drewry is the first book by this wonderful author that I have had the chance to read. Prima Donna is funny, heartbreaking, sexy, and sigh worthy.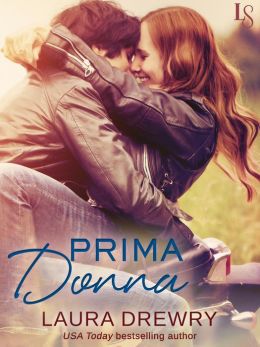 Regan Burke is a hair stylist who take great pride in make people look there best. When the building that she is renting is sold and she is forced to close, her answer to everyones questions is "I'm just fine". But really she is not. She has bills to pay, a mother that she is responsible for and medical bills that she needs to pay. She has no time for love, no time for herself, and no time for distractions in the form of pediatrician Carter Scott.
Carter Scott know a load of bull when he hears it, and everytime that smart, sexy, sassy Regan Burke throws out her "I'm just fine" he calls her on it. Never wanting to get tied down, not one to date, but better know for his bed hopping, Carter is unexpectedly drawn to Regan. Afraid that the cancer he had a teen will come back with a vengeance, Carter holds back from making commitments, partnering with his two best friends in the new clinic and getting involved.
Neither are looking for more than a good time, however neither can resist the fact that they keep being drawn together, the need to protect and defend each other, to be near each other just might lead these two to a beautiful HEA.
I loved Carter and Regan together. They both have secrets that they have hidden from their family, their closest friends, but for some reason, there is an ease about them that they are able to confide in each other, to help the other carry the weight of each others troubles without a look of pity, or the need to run for the hills. Carter's cousins are a riot and Regan's friends are laugh out loud funny. I highly recommend this book to anyone looking for a special HEA.
Book Info:

Published September 23rd 2014 by Loveswept
In a witty, sizzling, and tender romance for readers of Jill Shalvis and Susan Mallery, a woman who can't slow down discovers that the perfect guy is in hot pursuit.
Even when her hair salon goes under and she's on the brink of breaking, Regan Burke keeps her "I'm just fine" attitude. She's had a tough life, coping with a difficult family and keeping her act together . . . barely. Right now, she just needs a job, any job, so she can pay her mother's medical bills. It's the exact wrong time for Carter Scott to come into her life—and to be so damn sexy, so distracting, and so determined to get close.
Carter isn't looking for anything serious—his heart belongs to the kids who depend on his pediatric practice—but something about Regan makes him reconsider. Maybe it's the scars she hides so well, the secrets she can't share. Carter knows all about that kind of pain, and he wants to help. But offering Regan a job in his office only makes things worse, even if their chemistry is off the charts. Lucky for them both, Carter isn't about to let go of love without a fight.